Death Announcement for Simon Muchiri-Father of Mrs Mukundi of Baltimore, MD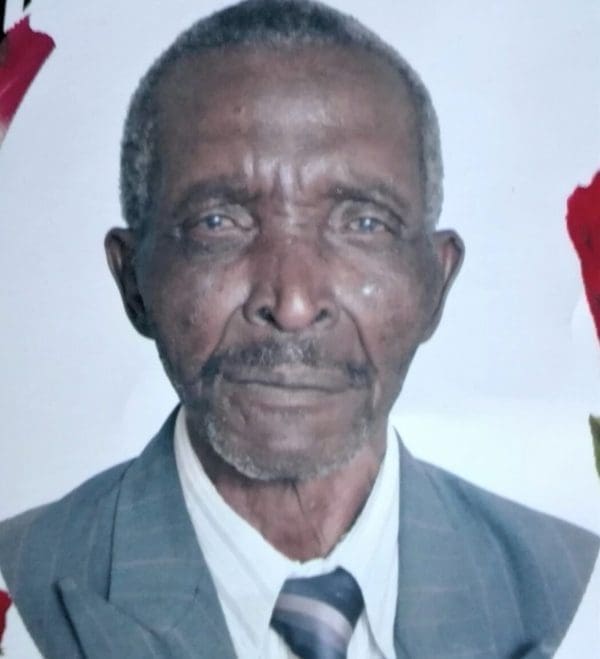 The family of Dr. & Mrs. Paul Mukundi regrets to announce the death of their father, Mr. Simon Igokoh Muchiri, which occurred in Nyeri at Consolata Hospital Mathari's   ICU after a critical illness.
Mr. Simon Igokoh Muchiri was the son of Muchiri Hungu and Wangari Muchiri. He was brother of the late Hungu Muchiri, the late Mwangi Muchiri, Ngaii Muchiri, and the late Wamooko Muchiri.
The deceased was the husband of Mrs. Rahab Nyakwea Igoko, and father of Beatrice Wanjiku, Esther Wangechi, Mary Njeri Mwaniki, Lucy Wambui Mukundi (of Baltimore, Maryland), Peter Thungu, Jonah Kariuki, Agata Wanjiru, and Charles Hungu. He was the grandfather of 18 children.
Family and friends will meeting on Wednesday (09/05/2081), and Friday (09/07/2018) from 6pm for prayers and to raise funds for outstanding hospital bill and family's travel expenses @ the Mukundi's: 143 chapeltowne Cir, Nottingham, MD 21236.
A memorial service will be held on Sunday, September 9, 2018 at Faith & Grace Worship Center beginning at 2:00pm.
The address is: 10012 Harford Rd, Parkville 21234.
The body leaves Consolata Hospital mortuary, Nyeri on Wednesday 9/12/2018 at 9am for burial on the deceased's farm Ruirie, Mugunda Location, Kieni West Constituency, Nyeri County.
For more information, please contact:
Dr. Paul Mukundi-443 554 4235
For cash app, please use: $PMMukundi and $LucyWmukundi.
Rev 21:4 "He will wipe away every tear from their eyes, and death shall be no more, neither shall there be mourning, nor crying, nor pain anymore, for the former things have passed away."


Africa Welfare Association is a pioneer provider of services to it's Diaspora members in the event of loss of a loved one. We are entrusted with the welfare of the African Diaspora globally.
We are entrusted with the welfare of the African Diaspora globally. AWA was set up in response to the ever-growing demand for services at a critical time. With trusted partners, AWA will offer you benefits wherever you are in the world.
Alleviate stress with AWA
At some point, we have been with a grieving family or friend and come to learn that none of us are ever prepared to leave this world. When the time comes, we shall leave everything including our loved ones behind. With proper planning, you can alleviate the burden of the expense associated with your untimely departure at a time when your family and loved ones are grieving.
Death Announcement for Simon Muchiri-Father of Mrs Mukundi of Baltimore, MD