Jacque Maribe arrested as murder probe continues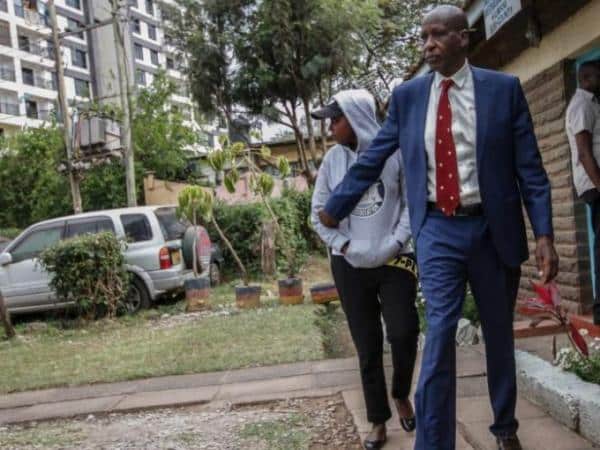 Journalist Jacque Maribe has been arrested amid investigations into the murder of Monica Kimani, who was found dead in her apartment in Kilimani, Nairobi County, on September 20.
Gigiri police boss Richard Mugwai confirmed this on Saturday night and said she was taken to the station.
GRILLING
It is expected that Ms Maribe, a Citizen TV anchor, will remain in police custody until Monday, when police will prefer charges against her. She is being represented by lawyer Katwa Kigen.
Ms Maribe was earlier questioned on the matter, to corroborate a statement by the main suspect, 28-year-old Joseph Irungu, who is her fiancé.
Police say they are interested in getting more information from her on the shooting her fiancé claims occurred near their house in Lang'ata a day after Ms Kimani was killed.
The journalist also took Mr Irungu to several hospitals after the alleged incident, trips which detectives are also looking into.
The officers further want to establish who owns a gun and a bullet that were found in Ms Maribe's bedroom and which have since been taken for examination.
Her car, a Toyota Allion, was also of interest to the detectives because Mr Irungu was driving it on Friday— the day he claims he was shot by unknown gunmen as he left the Royal Park Apartment where the journalist lives.
On September 28, Ms Maribe arrived at the Kilimani Police Station shortly after 2.30pm, accompanied by lawyer Katwa Kigen and members of her family.
She spent about 30 minutes at the Kilimani Directorate of Criminal Investigations offices before being escorted to the DCI headquarters on Kiambu Road.
DETENTION
Mr Irungu will spend 10 more days in remand, a Kiambu court ordered on Wednesday.
The man accused of killing the 28-year-old Ms Kimani will be held at Muthaiga Police Station to allow detectives to complete investigations.
Ms Kimani, who had just arrived from South Sudan where she runs a family business, was on Thursday morning found dead in the bathtub of her apartment. Her throat had been slit.
Investigations show the suspect and the deceased had communicated for long and that they even planned to meet at the airport on her arrival.
Ms Kimani was buried on Friday at her parent's home in Gilgil, a ceremony at which her family and Gilgil MP Martha Wangari called for justice.
-nation.co.ke