Relatives of family wiped out in car crash speak, reveal last moments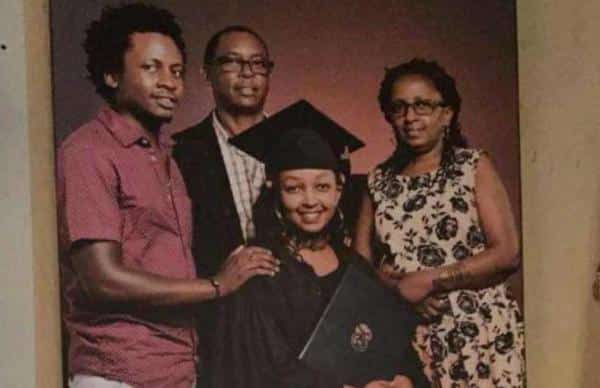 A tiny white dog welcomed us to Florence Kiara's home in Thome Estate, where friends and relatives had gathered to plan for her sister's funeral.
In the compound, people sat close to one another, talking in low tones, stealing glances as more guests streamed in. Not even the well-manicured lawns could wish away the sense of loss. A whole family had been wiped away in one instance.
A week ago, Florence's sister Zipporah Kimani, her husband Peter Kimani and son David Gikonyo were involved in a road accident that killed them all.
They were on their way to attend a friend's funeral in Molo when they met their deaths at Kinungi. Zipporah and Gikonyo died on the spot while Kimani succumbed to injuries at Naivasha sub-district hospital.
According to some relatives, an oncoming vehicle was trying to overtake when the driver noticed another car. To avoid hitting the vehicle, the driver swerved and rammed into Kimani's car, forcing it off the road.
A couple in the car that hit their vehicle is said to have sustained serious injuries.
Kimani's family perished only a month after the family buried its only daughter Grace Wambui, who died after a short illness.
"If God could be spoken to, I would have asked that I die in place of my last born daughter. I feel so pained," said Pricilla Wangari, Zipporah's mother.
Susan Wambui, Zipporah's friend spent the entire Tuesday with her at their home. "She (Zipporah) regretted the friend's death so much. In fact, as she spoke, I could guess she was combining the grief with the loss of her daughter," Ms Wambui said. "She was to go to the salon the following day, before travelling on Thursday," she added.
Upon return, Zipporah wanted Wambui to accompany her to buy jewellery and shoes she had seen somewhere. "She loved glamour and always looked smart. From the salon, she sent me pictures of her new hairstyle, seeking my honest opinion on how it looked," a weeping Wambui recounted.
On Thursday morning Gikonyo, who spent the night at Wambui's home, woke up early to join his parents for the journey.
"I didn't hear him leave but my son told me he left before 6am. That was it. That is how I lost all of them," Wambui cried.