Sonko Hints At Nominating Jomo Gecaga As Deputy Governor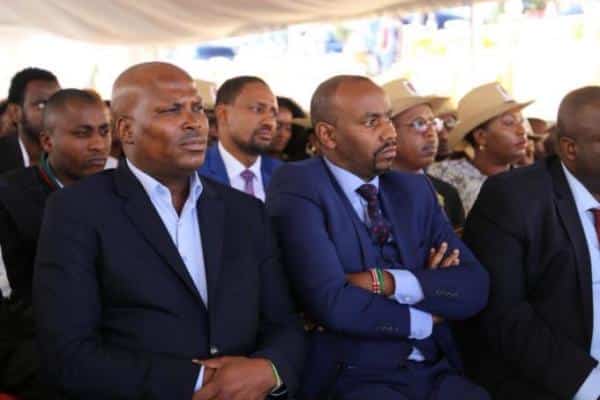 Nairobi Governor Mike Sonko has threatened to nominate another "Miguna" should Nairobians continue pressuring him to name a deputy governor.
He also hinted at nominating President Uhuru Kenyatta's personal assistant Jomo Gecaga to replace Polycarp Igathe.
"Hata yeye ningependa akuwe deputy governor lakini bado tunaconsult (I would have no issue with him deputising me, but we are still consulting)," the county boss said.
Speaking on Thursday in Mua, the governor said that he needs time to consult with the party and President Kenyatta who is away in Rwanda.
Sonko recently made public names of four women; Karen Nyamu, Margaret Wanjiru, Agnes Kagure and Jane Weru.
"Mimi nilichagua deputy gavana miezi kidogo iliyopita, jina ikaenda assembly ikaangushwa sasa ningependa mnipatie time yakuconsult sitaki kuleta mtu hapa anisumbue…Kwa sababu mimi ni mtu wa Jubilee naconsult party na Rais, saa hii hakuna presha ile wakati walinipea presha nikawapatia Miguna. Mimi sitaki kupewa presha nikipewa presha nitawaletea Miguna mwingine muangushe kwa hivyo tutangoja Rais arudi tuconsult (I appointed a deputy governor few months ago, but the County Assembly rejected. Give me time to consult, I do not want to bring a problematic person. I have to consult with the president since I am a Jubilee affiliate, so don't give me pressure otherwise I give you another Miguna)," Sonko said.
On May 16 the governor had picked NRM General and lawyer Miguna Miguna to fill the DG post, a move that was met with a lot of opposition.
"In regard to the Supreme Court advisory to the appointment of a deputy governor, upon the seat falling vacant, I hereby forward my nominee Lawyer Miguna Miguna to undergo a full vetting process and approval by the County assembly for the position," the county boss said in a letter.