Creation Of The Next Generation Of Diaspora Remitters To Kenya Is My Goal-Amb. Githae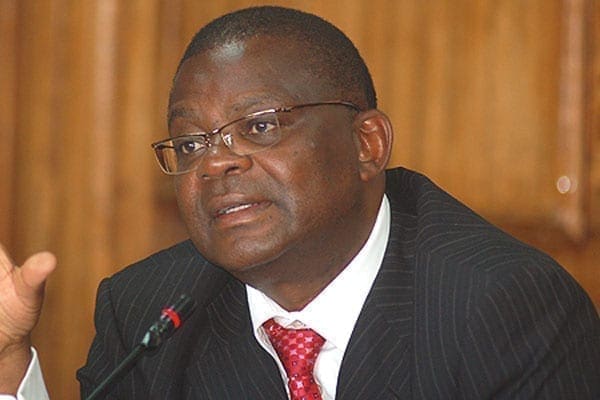 CREATION OF THE NEXT GENERATION OF DIASPORA REMITTERS TO KENYA IS NOW MY GOAL AFTER KQ DIRECT FLIGHTS,SAYS KENYA'S ENVOY TO USA ON FRIDAY,SEPTEMBER 7TH, 2018.
Kenya's envoy to the USA stated this while addressing Kenyan Professors and Scholars Association Members(KESSA) teaching at Universities in USA during their Annual Assembly in Atlanta,Georgia.
He added that this is because the first generation of Kenyans who came to USA more than 40 years ago was now approaching retirement as their average age was between 50-70 years while their children who were born in USA had no Kenyan familia connection.
" I am not worried about you people gathered here in Atlanta because your parents,brothers,sisters,and other relatives are in Kenya and therefore you will continue remitting money to Kenya but I am concerned about your children who were born in USA as their friends and relatives are here in USA and have therefore no familia connection to Kenya" stated the envoy.
Last year the diaspora remitted over Kshs 200 Billion to Kenya, the bulk of which came from USA. This amount will dwindle in the next 20 years if urgent and extra ordinary steps are not taken to issue the new generation with Kenyan National ID'S.
USA is a vast country almost a continent and it costs about 700-800 dollars per person to come to DC to register for an ID and this huge cost has acted as a discouragement to the diaspora . In addition there is a large number of diaspora who cannot travel to DC or even anywhere else as they lack travel papers. It is our duty and responsibility to assist and help this group of Kenyan diaspora.
An ID registration exercise outside DC costs about $ 10,000 as the Embassy has to cater for about 7-8 officers for 4 days with air tickets,accommodation,food,local transport, registration materials ,out of pocket expenses and other allowances.
The Embassy team of officers travels on a Friday , registers the diaspora for ID'S on Saturday and Sunday and travels back to DC on a Monday .The maximum number of the diaspora that can be attended to in such an ID registration exercise is between 150- 200.
The Embassy did not have sufficient or adequate funds to send an ID registration exercise to all the major towns and cities in USA as there is no country with unlimited resources including USA and Kenya was no exception.
Even as the Embassy awaits for the National Treasury to provide adequate or sufficient funds for diaspora ID registration exercise, the matter cannot wait any further. If the diaspora cannot afford ,for whatever reason ,to come to DC to register for ID'S, the Embassy will go to where the Kenyan diaspora lives, the Envoy stated.
He was ,therefore ,supportive of those Kenyan Parents in USA who have come together and contributed about $ 50 -70 dollars each in order to partner and collaborate with the Embassy for ID registration in their cities and towns as it was a win- win situation for all because the Parents would save about $ 700- 750 dollars which they would have otherwise spent to travel to DC for ID registration while those without travel papers need not travel outside their city or town while the Embassy would fulfill its mandate even under inadequate or insufficient budget circumstances.
He requested those cities and towns that were ready for this exercise to get in touch with the Embassy as the alternative was for the diaspora to travel to DC for ID registration which is done on Tuesdays and Thursdays between 9.00 am and 1.00 pm
" I want to be known as the Envoy who made KQ direct flights between USA and Kenya a reality and also registered the Kenyan diaspora with national ID'S " , he concluded