Kenyattas, Ndegwas create 3rd largest bank in merger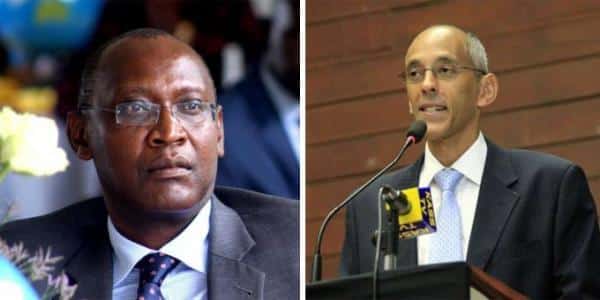 Commercial Bank of Africa's (CBA) announcement that it had opened talks with rival NIC Group for a possible merger, if successful, will create the third-largest lender by assets, making it the biggest re-arrangement of Kenya's banking landscape in a decade.
The new entity will have Sh444.3 billion in total assets, based on September disclosures, overtaking Co-operative Bank , which will be relegated to the fourth position.
The new bank will rank third after KCB and Equity , whose assets were valued at Sh684.1 billion and Sh560.3 billion respectively in the same period.
Co-op Bank had Sh404.1 in September or Sh40.2 billion shy of what the CBA/NIC balance sheet will command.
Rare move
The proposed merger is promising a rare shift in top bank rankings that was last seen about 10 years ago when KCB and Equity edged out Barclays Bank of Kenya and Standard Chartered Bank (Kenya) to settle in the top two spots by all measures, including assets and profits.
Co-op Bank repeated a similar feat when it edged out the two banks with British roots to become the third-largest lender.
CBA's and NIC's profitability have been much weaker compared to those of the top three lenders and the merger is expected to help them cut costs and boost margins.
KCB, Equity and Co-op have achieved return on equity (RoE) — a measure of efficiency in deployment of shareholder funds — of more than 20 per cent over the years while CBA's and NIC's RoE stood at below 14 per cent.
The proposed merger will bring together the business interests of two of Kenya's wealthiest families — the Kenyattas and the Ndegwas — who have controlling stakes in CBA and NIC respectively.
A press statement released last evening said the boards of the two banks had initiated the merger that is expected to produce an entity with a bigger capital base and that will benefit from their respective strengths.
Different strengths
NIC is strong in asset finance and has in recent years sought to expand its presence in retail banking with the opening of more branches and launch of digital banking platforms.
CBA, on the other hand, is strong in corporate banking where it specialises in disbursing big-ticket loans to a relatively smaller customer base. It also has a presence in the micro lending business through the mobile banking platform M-Shwari.
The companies did not indicate whether the unified bank will be listed on the Nairobi Securities Exchange (NSE) or take the CBA route and go private. NIC is currently listed on the Nairobi bourse.
Both banks have Kenyan and regional units but continue to rely heavily on local operations for most of their profits.
"The boards believe that combining the businesses of two highly profitable entities would create enhanced capacity through capital consolidation and strong liquidity to capture strategic growth opportunities," the statement said.
"The combined group would be strongly placed to play a bigger and more significant role in the banking sector and the economies of Kenya, the region and beyond."
Finer details of the proposed merger, including valuation and the share swap ratio, are expected to emerge as the transaction progresses.
Leverage
The two boards will also decide who will run the merged entity. CBA's relatively bigger size is likely to give it more leverage in the negotiations.
It remains to be seen whether minority shareholders of NIC will be given an option to take cash in exchange for their shares instead of remaining in the merged entity that could be taken private.
The merger announcement comes at a time when NIC's share price has taken a beating at the NSE, making it one of the cheapest banking stocks after nearly halving to close at Sh22.6 yesterday.
The bank has traditionally traded at a major discount to its larger peers as investors priced in relatively weaker earnings, low dividend payout and a recent spike in defaults.
NIC also has a Sh5.5 billion corporate bond maturing in September next year.
The CBA/NIC merger cements the view that big banks are best placed to thrive in the new banking landscape marked by increased regulation and thinner lending margins as a result of interest rate controls.
Large banks have reported flat or higher earnings while most of the small and medium-sized lenders, whose business models were built on interest rates of 15 per cent and above, have reported a mix of losses and reduced profits.
Big banks, which hold most of the industry's deposits, are also set to benefit from the recent removal of the minimum interest payable on interest-bearing accounts.
-businessdailyafrica.com