David Murathe resigns from Jubilee over bid against Ruto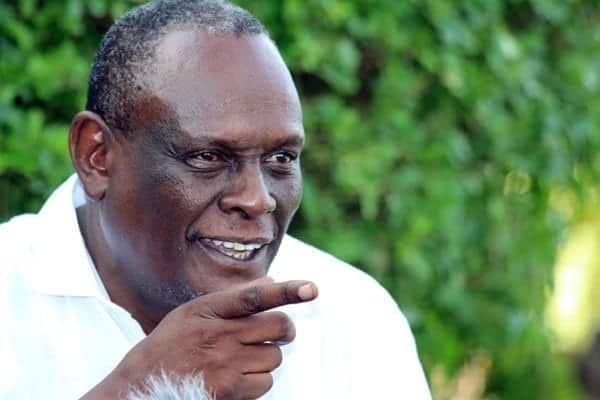 David Murathe has resigned from his post as Jubilee Party's interim vice-chairman, citing the conflict of interest in his bid to block Deputy President William Ruto's 2022 presidential bid.
Mr Murathe made the announcement on Sunday, while explaining why he wants the DP to retire alongside President Uhuru Kenyatta come that year.
NEC
Mr Murathe explained that it was no longer reasonable for him to attack Mr Ruto as they both sit in the party's NEC.
"I now find that it is no longer tenable to stay on as the party vice-chairman, given that I will have to sit in the same National Executive Council with a man I am taking to court to block from running for president," he told journalists at his Garden Estate home in Nairobi.
He added that he had written to Jubilee Secretary-General Raphael Tuju about his resignation but did not provide a letter.
Mr Murathe earlier said he will do anything to stop Dr Ruto, including going to the Supreme Court.
He says there are legal implications in the DP's candidature, his argument being that the presidency is composed of two holders; the president and the deputy, and that they should both retire after two terms in office.
OWN VIEWS
On Sunday, Mr Murathe stood by his views that the deputy president should retire.
He also pointed out that his position on Mr Ruto and his bid to succeed President Kenyatta are his own, so they should not be viewed as the president's.
"When I speak, I speak only as David Murathe … any views I have are my own. I do not take brief from anyone and I am disappointed that people are trying to construe this as the position of President Uhuru Kenyatta," he said.
Mr Murathe has in the past few weeks run a campaign to ask Dr Ruto to retire together with President Kenyatta, insisting that the duo had a joint mandate.
He argues, a position he wants confirmed by the Supreme Court in an advisory opinion, that since the DP automatically acts as president in the event that the incumbent is deemed unable to discharge his functions, "it only means that the DP is a president using the mandate they are given during the election."
MoU
Regarding claims of a memorandum of understanding between the two leaders, for President Kenyatta to back Dr Ruto for the top job in 2022, Mr Murathe said there was no such thing.
"MoUs are public documents, and today I want to dare those that say there exists such a thing between Ruto and the president to produce it," he said.
Asked why he was issuing the comments at the time, and not in 2013 when the duo first vied or in 2017 when they sought re-election, Mr Murathe said he was trying "to help avoid problems in 2022″.
He added, "If our deputy party leader was to lose the election to say, Raila, or Mudavadi, and the discussion becomes 'I lost because they did not vote for me, even after I supported them for two terms', there would be chaos. We want people to know this early – that there is no guarantee to support anyone in 2022."
Raila Odinga (ODM), Musalia Mudavadi (Amani National Congress), Kalonzo Musyoka (Wiper) and Bungoma Senator Moses Wetang'ula (Ford Kenya) are the four principals of the National Super Alliance.
Their plans have changed since the March 9, 2018 handshake, for national peace, unity and growth, between Mr Odinga and President Kenyatta.
-nation.co.ke