Kibaki's Hilarious Reaction After 1st Encounter With Teargas
The Kenya Yearbook denotes former President Mwai Kibaki as a man who has eschewed petty politics and controversy and has rightly been described as "the gentleman of Kenyan politics.
The call of duty, however, once saw him head to the streets owing to his position as the Opposition leader.
According to lawyer and human rights defender Njonjo Mue, the events of May 31, 1997 brought Kibaki face to face with the itchy effects of teargas fumes for the first time.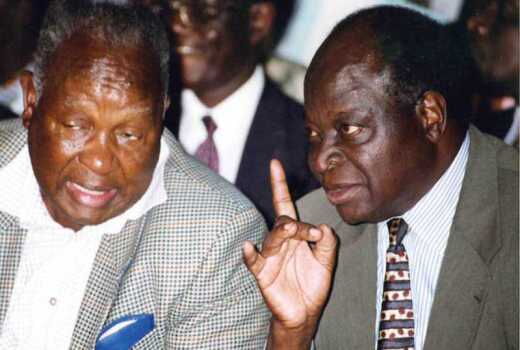 The civil society groups had joined hands with the Opposition for a massive rally at Uhuru Park in a push for constitutional reforms ahead of the impending General Election.
Mue recounts that Kibaki as the official opposition leader arrived at the park accompanied by Martin Shikuku, Kiraitu Murungi, Kennedy Kiliku and James Orengo.
In their common fashion, the police lobbed teargas canisters and charged towards the crowd, clobbering them indiscriminately with the retired President finding himself in unfamiliar waters.
"I remember Kibaki, who had never been in the battlefield before, choking and in tears looking completely lost. We gave him some water because we thought he would collapse.
"As he recovered, he said memorably in Kikuyu, "Kai ikoragwo ii nduru atia? Uguo niguo muiguaga? Kweri mukiri omiriria." (You mean it stings this much? Is this the way it always is? In that case you people are brave!)," the activist recounts.
Mue indicates that despite the teargassing, the team remained put and addressed the media at the same venue condemning the act.
"Prof. Kivutha Kibwana (current Makueni Governor) read to us one of his poems, Kwani mimi si mtu? (Am I not a human being), and Rev. Timothy Njoya encouraged us with some words from the Sermon on the Mount.
"Blessed are you when people persecute you and say all manner of evil about you for my sake; for there is great reward for you," Mue recounts the Bible verse.