Photo of William Ruto With Moses Kuria Sparks Debate
Photo of William Ruto With Moses Kuria Sparks Debate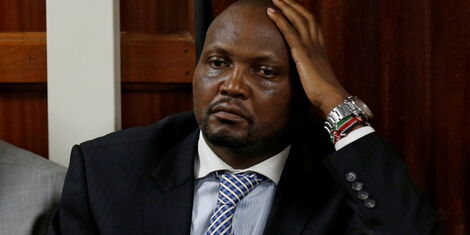 Deputy President William Ruto and Gatundu South Member of Parliament Moses Kuria were the subjects of a photo that was widely shared on social media.
In the image, Ruto was seen showing Kuria something on a mobile phone, with the DP's mouth wide open and the MP's gaze locked on the screen.
The photo had the captions 'president' above Ruto's head and 'prime minister' on the legislator.
Kenyans reacted, wondering whether Kuria had joined the Ruto bandwagon. Some went on to question his allegiance to President Uhuru Kenyatta.
"You (Kuria) a big no. We can't have you, a hatred monger as a top leader in Kenya. If Ruto's presidency would make you PM, I'd rather denounce supporting him. You don't even deserve to be an MCA. No offence sir, but just stick to the precincts of Gatundu," a Facebook user named Blessed Son lashed out.
"Jubilee government has failed to deliver. You have seen it cripple yet you are competing for a sit that currently is occupied," one Kevin wondered.
However, some defended the MP, stating that he was bitter with the BBI.
"Guys, let us respect Kuria's position. Remember the BBI recommends that the PM must be an elected MP. If Kenyatta wants to be a PM because he can't vie for the president's position anymore, he'll have to vie in Gatundu South Constituency to be an MP. The only option that Kuria has is to seek alliance from a different camp," Ole Nzuki argued.
On Wednesday, November 27, Kuria vowed to block a special task force that is set to be appointed by President Uhuru Kenyatta to push for the implementation of the BBI report.  According to his Facebook post, the legislator vehemently resisted the formation of a committee of experts.
"I strongly suspect that what was released today was a bonoko (fake) report. The actual one is the one that will be released by the committee of quacks that will be formed to 'refine' the draft. Stay woke, good people," Kuria warned.
On Friday, November 29, he was amongst leaders who trolled Jubilee Nominated MP Maina Kamanda for disrespecting Ruto. Kamanda, during a fundraiser in Kirinyaga, was heckled for not recognising Ruto as a leader in Kenya.
"Maina Kamanda has gotten into an unfamiliar bedroom through the wrong side. Kirinyaga is a county you need to tread at a slow pace. However, am very sorry for what befell you. A man of your age and stature deserves more respect," ironically posted Kuria.
In 2019, Kuria announced that he would vie for the presidency. In August 2019, he formed his own party Transformational National Alliance Party which he believed would challenge the top parties and have an impact on the country's politics.
By JOHN MBATI
Source-kenyans.co.ke