Kenyan troops take control of Kismayu, Kibaki congratulate them
Kenyan troops take control of Kismayu, Kibaki congratulate them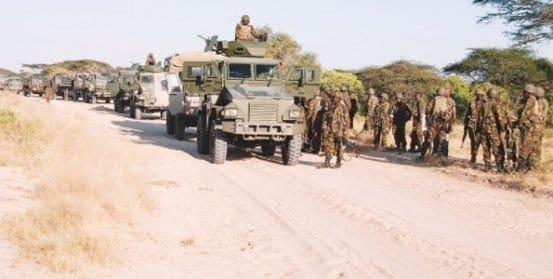 Kenyan Defense Forces have finally taken control of Kismayu port in Somalia believed to the al-Shabaab stronghold.
The success of the Kenyan forces comes after four days of operation from land, sea and air, meeting strong resistance from the militia.
Military Spokesman Col Cyrus Oguna said the town was liberated at 2 am Friday Morning after a fierce battle with the terror militants.
"We have taken control of the town. Our forces are already in Kismayu," Oguna said.
Several Al Shabaab militants were killed in the attack but the exact casualty figures are yet to be released. "The damage will be assessed and we will give you all the information available."
KDF is now urging residents of Kismayu to avoid areas where KDF and SNA troops are to avoid collateral damage.
The port was the last major stronghold for the Somalia militants' al-Shabaab which has been in control for the last couple of years.
The army is now moving to the city suburbs to fish out the militia remnants to enable them total control of Kismayu.
Meanwhile, President Kibaki said KDF soldiers have demonstrated their resolve and determination to emancipate Somalis from the Al-shabaab.
President Kibaki who has just wound up his tour of New-York, America, said the historic capture of the city marks a new and crucial chapter for a full reconstruction of Somalia.
President Kibaki further pledged Kenya`s unwavering support to the people of Somalia as they embark on the reconstruction and development of their country.
Elsewhere, Vice President Kalonzo Musyoka has said in liberating Kismayu, the KDF, AMISOM together with the Ras Kamboni Brigade, the allies have laid down the first building block towards the reconstruction of the Somalia, which has not known peace and development for over two decades.
"Our forces have shown a high sense of professionalism, strategy and planning in the execution of the well-laid out attack. Those who used to criticize our military, that it has no experience have now seen for themselves what it is capable of achieving", Mr. Musyoka said from Kuria County where he is on a two-day tour.
The Vice President however made it clear that Kenya has no expansionist agenda in the issue, adding that it would soon be upto Somali government and her people to run their security and help consolidate peace in their country.
He called on all citizens of Somalia to unite and embrace peace saying the most difficult task in nation building lay ahead and success depends on their unity of purpose.
"The Interantional community must now help provide the necessary resources that will accelerate resettlement of the displaced citizens and provision of basic infrastructure and services, such as education, health care and water" he said.
Source:https://www.kbc.co.ke/
Kenyan troops take control of Kismayu, Kibaki congratulate them