The two gardens that speak to our spirits-Place called Gethsemane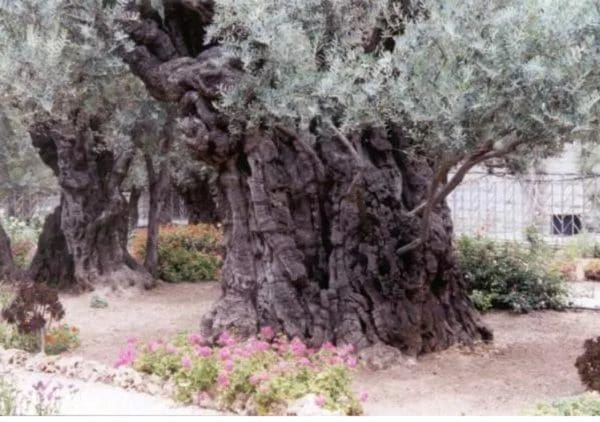 Then cometh Jesus with them unto a place called Gethsemane, and saith unto the disciples, Sit
ye here, while I go and pray yonder.—Matthew 26:36
Gardens can either be fertile, productive, and rich in soil and plants or infertile, unproductive,
and of poor soil and with no plants. In our daily lives whether you consciously know it or not
we are either living or being faced with the two gardens experiences. This happens at work in
the corporate world, our homes, in the grocery stores, churches and schools. Clearly, this is not a
literal vineyard or garden, but the garden of the soul. It is a spiritual state in which in our thought
life we allow either true or pure or untrue and impure thoughts /things to grow in our minds.
The word garden appears in the bible 86,859 times. For example: "The LORD shall guide you
continually, and satisfy your soul in drought, and you shall be like a watered garden, and like a
spring of water, whose waters do not deceive" (Isaiah 58:11). "For as the earth brings forth her
bud, and as the garden causes the things that are sown in it to spring forth; so the Lord God will
cause righteousness and praise to spring forth before all the nations" (Isaiah 61:11). "Their soul
shall be as a watered garden, and they shall not sorrow any more at all" (Jeremiah 31:12). Our
response to what get presented to us dictates which garden we are constantly residing in. Two
gardens stand out in the Bible: The Garden of Eden and the Garden of Gethsemane. Eden was
the garden where Adam sinned; Gethsemane was where Jesus agonized over the suffering for
that sin. In the book of Genesis, God creates man and places him in a garden called Eden. Eden
was a beautiful, delightful and perfect garden. God gave responsibility over Eden to the first man
and woman. They were to take care of the garden and eat of all in the garden except fruits on
one tree, the tree of knowledge and tree of death at the center of the garden. It is in this garden
that Adam disobeyed the Lord. In this garden, death came into being and fellowship with God
was broken. In this garden, Satan spoke to the woman. In broad daily light the devil, Lucifer,
the snake of the old, the deceiver and the fallen one, showed up with no shame or guilt, fully
determined to steal that which God had stored up for Adam and Eve. It is at this garden that the
devil led the first man and woman to doubt what the Lord had spoken to them.
In our daily lives we can choose to live in the Garden of Eden, where all we look for from
the Lord are the delightful things, the pleasures of that which we need for our daily needs and
wants. In the Garden of Eden, we get to question God and doubt him. We feel restricted like
the first man, Adam, felt. We ask as he did, "why not this one tree, and why will this one tree
be so unique and out of bounds". Here we fail to understand or seek God for understanding; we
become deceived, by following the desires of our own flesh and the leading of Lucifer, the old
snake. Satan still seeks for a listening ear from us children of God. In the Garden of Eden, it is
easy to talk to the devil as though he belongs here, because it's a garden of ease. In our thoughts
we can entertain thoughts of doubt, defeat, regret, unfaithfulness, lying, cheating, fornication,
adultery and witchcraft. Here and in broad daylight we can ignore that which the word of God
says.
On the other hand, the Garden of Gethsemane's conflict occurred at night. Jesus showed up
boldly to the Father in the garden of Gethsemane, while Adam hid himself from the Lord in
shame. We can too show up boldly in the presence of the Father daily even in the difficult hour
in boldness. We may agonize with what He has called us to do and we may temporarily struggle
with what we go through in this life, but our conviction on the father's promises makes us bold
even to declare as Jesus did, and say "not my will but yours". The blessings that were to come
from Adam were lost in Eden. The good news, however, is that Jesus at Gethsemane restored
all that was lost in Adam; He lost none of them which God had given him. The Gethsemane
experience comes with mixed feelings, but when we let God have the final say, we can rest in
him assured that all will be well. It is here we can receive the cup from the father's hand. This
cup might be a difficult one, but it comes from the one who loves us unconditionally. It comes
from the one who cares and who says He will never leave you nor forsake you. It comes from
the one who has our lives in his hands, who knows the number of the hair on your head, who
knows you better than your own mother, and the one who has a prepared a place for us who have
believed. In Gethsemane we seek the father as Christ sought God, while in Eden God sought
Adam. Do not be in a position or situation where God comes looking for you, because when He
does, it's because you have missed the mark.
This week make a conscious decision to willingly live the Gethsemane experience daily, seeking
the father for that which has not been revealed to this generation and to obey him regardless of
what it will cost you. Let us trade our identity for his, our fear for his boldness, our pride for
his humility, and our foolishness for his wisdom. In this experience we are protected and we are
more than conquerors.
For more on this topic, please come join me as I share the word that the Father has given me for
this generation. It is a powerful word for those of us who have an ear to hear what the spirit of
God is speaking to the church today. Come and be blessed this Saturday, November 10th at the
1820 Barber Lane, Milpitas, California.
By Isabella Mwango
For more on this meeting contact me at 408-8336456 or
online at www.vesselforhonor.org.
The two gardens that speak to our spirits-Place called Gethsemane