Kenyan referee makes history to Officiate in 2014 World Cup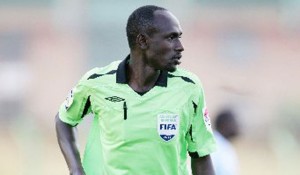 Assistant referee Aden Marwa has been appointed as one of 32 match officials to oversee 2014 World Cup in Brazil after an impressive performance
Kenyan assistant referee Aden Marwa has been selected to officiate in this year's World Cup to be held in Brazil.
Marwa thus makes history by becoming the first Kenyan official to take part in the competition.
The 36 year-old's star has been on the rise over the last three years and officiated in both the 2012 and 2013 Africa Cup of  Nations finals held in South Africa and Gabon respectively.
The Fifa Referees Committee announced on its website on Monday that it has put in place a comprehensive program to ensure referees are in peak condition before the World Cup kicks-off.
"Just as it did for the 32 participating teams, the road to the 2014 Fifa World Cup began with an initial group of 52  referees from all over the world in September 2011 when Fifa took the important decision to create a refereeing project.
"One of the key objectives was match control and consequently to prepare this group of prospective referees for the 2014 Fifa World Cup," said a statement from Fifa.