Lupita At Queen Latifah Show-Promotes Kenyan Suzie Wokabi Lipstic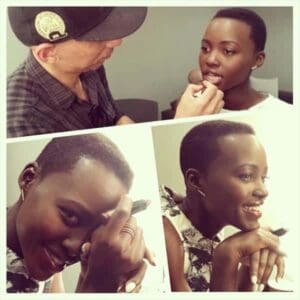 When you are on the spotlight, people will analyze your every move and sometimes come up with the most absurd of judgements. Lupita has been receiving nothing but praise and love from fans across the globe but as expected, there have been a few people who felt that she should 'do this and not do that'.With the 'who owns Lupita battle' between Mexico and Kenyans still going on, we understand where most people are coming from with their opinions but it needs to be clear that a lot of factors have to be considered for her to start rocking 'Made in Kenya'.
To cut straight to the chase, there are fellas who feel that the girl who has now become a fashion icon should rock something Kenyan to promote Kenyan designers and so many other reasons best known to themselves. I still think that she does not have to rock a 'Maasai shuka' on the red carpet to prove her nationality but oh well, Lupita must have listened because at the recent queen Latifah show, she turned up looking all shades of gorgeous and made it known that she was wearing Suzie Beauty lipstick. Yes, Kenya's golden girl Lupita Nyong'o rocked Kenyan and she slayed it!
"SuzieBeauty is the first Kenyan line of cosmetics products – developed by an industry professional, for the everyday African woman".(Professional Make‐Up Artist and Founder of SuzieBeauty, Suzie Wokabi)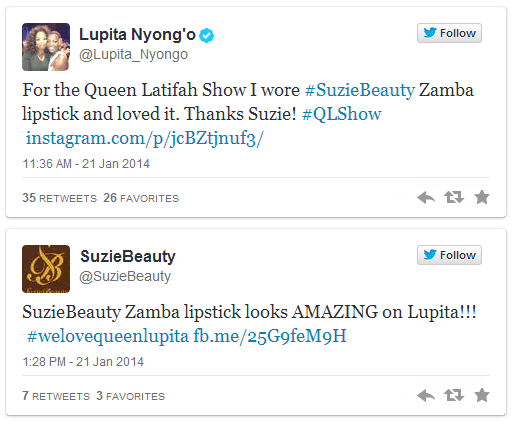 -niaje.com