Obey Parliament, Uhuru tells Governors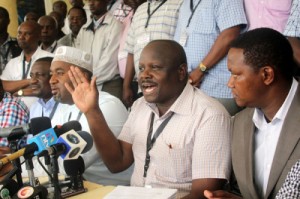 NAIROBI, Kenya, Feb 21 – President Uhuru Kenyatta on Friday broke his silence over the stalemate between Governors and Senators, and called for utmost respect for Parliament.
The Head of State who spoke at a women's group Annual General Meeting (AGM) in Kericho, says Governors have no choice but to respect the Senate whenever they are summoned to answer questions related to their work in counties.
"It is pointless for a Governor to think he is a law unto himself, even me as the President I am not a law unto myself – I am accountable to the National Assembly; I must be accountable. Everybody must be accountable because how else will we establish transparency in this country?"
He went on: "I cannot instruct my Cabinet Secretaries to snub a House committee, even when they have been called. Because they must go, Parliament is there to oversight me and my Government. They are also there to help me implement the programmes I pledged to put in place," he said.
President Kenyatta stated that the standoff that has been gaining momentum between Parliament and the Judiciary must also be resolved because it was diverting the nation's attention from the development agenda.
It was the first time the President spoke about the row sparked by the impeachment of Embu Governor Martin Wambora before the action was suspended by the courts.
"Indeed the principle of the separation of powers is guaranteed by our Constitution but separation of powers does not mean that we are independent countries, we are three arms of the same Government."
"We need that separation to also realise that we are interdependent and we need one other. One arm should not prevent the other from doing its business and where necessary we must consult and move the country forward together," the President affirmed.
Following Wambora's impeachment, the Senate Committee on Economic Affairs and Finance summoned nine Governors to answer questions on expenditures in their counties, only for them to obtain a court order.
The Governors are also seeking an interpretation from the Supreme Court on whether the Senate have powers to summon them to answer financial queries.
The Senate and the National Assembly on Thursday displayed a rare show of solidarity, when they closed ranks to slam recent Judiciary rulings they perceive to be an 'affront on their oversight mandate'.
Parliament is expected to hold a Kamukunji (informal session) next Tuesday to deliberate the matter stressing that Governors have no choice but prepare to account for funds disbursed to their counties.
Senate Majority Leader Kithure Kindiki reinstated his stated that failure by the Governor to account will force the Senate to withhold their next allocations until they answer relevant questions.
"Governors you can run but you cannot hide, we will use all means possible to ensure, the law is complied with, you are not above the law," he stated.-capitalfm.co.ke