US Secretary of State John Kerry calls President Yoweri Museveni over anti-gay law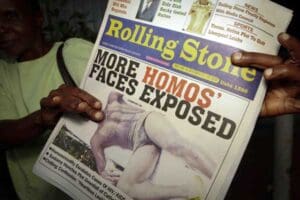 US Secretary of State John Kerry has expressed deep disappointment in the Ugandan government's decision to enact the Anti-Homosexuality Bill in a phone call to President Yoweri Museveni.
According to a readout of the call posted on the US Department of State website, Secretary Kerry noted that the decision complicates the US relationship with Uganda and raised concerns that the law poses a threat to the safety and security of Uganda's Lesbians, Gay, Bisexual and Transgender (LGBT) community and urged President Museveni to ensure the safety and protection of all Ugandan citizens.
The two also discussed the law's negative impact on public health efforts including those to address HIV/AIDS, as well as on tourism and foreign investment in Uganda.
The rare phone conversation between the two comes at at a time when pressure is mounting on President Museveni following the signing of the law on Monday strengthening already strict legislation relating to homosexuals in the country.
It also underscores the stand taken by President Barack Obama's administration over gay rights.
On Tuesday, Mr Kerry announced that the US had began an internal review of its relationship with the government of Uganda.
In a press release emailed to media houses, Mr Kerry stated that President Obama's government would ensure any engagement with Uganda would reflect the anti-discrimination policies supported by his government.
President Museveni's assent to the controversial legislation has continued to draw sharp reactions from several quarters, including the UK, Norway, the United Nations (UN) and the World Bank. On Thursday, the World Bank announced that it was suspending a $90 million loan following the passing of the law.
"We have postponed the project for further review to ensure that the development objectives would not be adversely affected by the enactment of this new law," a World Bank spokesperson said in a statement.
The action comes a few days after the Netherlands, Denmark, and Norway said they would halt or change their aid programmes to the country.
But President Museveni has defended the law, saying what he did was in the interest of the Ugandan people. "The West can keep their 'aid' to Uganda over homos, we shall still develop without it," government spokesman Ofwono Opondo said in a message on Twitter posted on Wednesday.-nation.co.ke