JANET WAINAINA OF UK HAS LOST HER MOTHER IN KENYA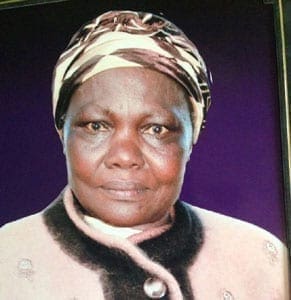 It is with much sorrow that we accept the death of Mrs Keziah Gacigi Wainaina on Wednesday 13th March 2014. She was the mother of Janet Wainaina of UKENTV London UK, John Kamau, Jackson Gitimu, Lucy Gathoni, Paul Kiarie, Josephat Kamiti, Stanley Ngugi and Moses Mburu.
She is a grandmother to many, an Auntie, a friend and a woman of God.  Mum developed heart failure in 2007 when visiting the family in UK where she was admitted at Guys and St Thomas hospital. She went back to Kenya and She has struggled with the condition for many years until God promoted her to glory. She has rested.
Friends and family in UK will be meeting from tonight for prayers at 137 Downing Road, Dagenham, RM9 6NA from 7PM.
Your prayers, your support and any financial assistance will be highly appreciated at this time of need.
Contribution can be sent to Mr K Makili A/C No 20363782 S/C 204422 .
For more information,contribution and encouragement  please call  07944997442, 07448070699 or  02085171548. – YOU CAN ALSO LEAVE YOUR TRIBUTE HERE
Misterseed.com