A KENYAN WOMAN HAS PASSED AWAY IN OXFORD, UK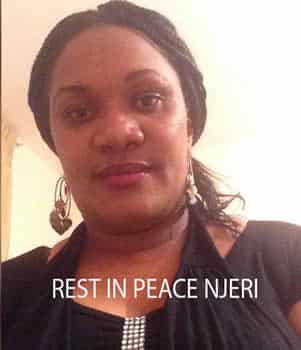 The family and Kenyan Oxford  Diaspora community wish to announce the sudden death of Pauline  Njeri  from OXFORD which occurred early hours  of  Sunday  31ST July 2016 .Njeri was scheduled to fly  home  to bury her uncle in Kenya,  but was found  dead on her bed when a friend went to pick her up for a drop off at the airport.
Njeri hails from Muchatha, Kiambu  County. She leaves behind a 13year old son Calvin Njoroge. She was a daughter to Nickey Njoroge and Margaret Wanjiku.
She was sister to Robert Kariuki , Mary Wambui  (Mech )  Kenya  and  Ngash  Wakibui (Coventry ). Sister in-law to Muthoni of Coventry , was a  cousin to many among them; Jennifer Kariuki  Dagenham , Sarah Kariuki  South East London, Mbugua Oxford and Ann Wanjiku  all of UK and John Moses (Mosco) formerly of Oxford.
Friends, family and well wishers will be meeting daily  at Regal Community Centre, Ridgefield Road Oxford OX4 3BY for prayers and funeral arrangements. Due to a huge  financial commitment involved in repatriating the body back home, we will be grateful  for your  prayers, support and contribution.
Those who wish to help financially by depositing their contibution through bank account can deposit  to Hellen N Funchs, Lloyds TSB Bank, Account 14913768 Sort Code 301251 (Ref: Njeri). For further information please contact: Ngash 07459501096, Jennifer 07417557343 or Hellen on 07900183803.
Burial and memorial service dates will be announced later. Njeri we loved you but God loved you more, may your soul rest in  eternal peace.