Kenyan film picked for Africa Magic Viewers Choice Awards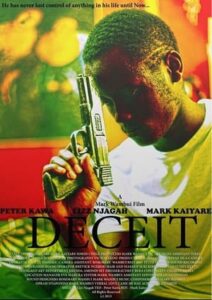 NAIROBI, Kenya, Mar 7 – "In film making, the only reaction you're not meant to create is boredom and if you create a confused element you have done a great job. Film is about going out of the norm and expressing your views differently," Film Director, Mark Kaiyare shares his view on the film "Deceit" which has been nominated for Best Online Video on Africa Magic Viewers Choice Awards.
Mark describes it as a proud moment not just the fact that it is his first Feature film but also on the input and passion he had in creating the film.
Lack of employment is what led the 22-year-old to take up his hobby in acting as a profession. He describes his journey into the film industry as difficult where he started off in the theatre and later into film as an extra in local series.
"In the film industry I was not getting any jobs, so I thought to myself, I should create the job! That's when I decided to pick up the script 'Deceit' which I wrote in the year 2010."
"I had been creating independent clips beforehand so this was my first major project, with a budget, a crew, a cast and better equipment… a real set," he adds.
Though this was not the stepping stone he had hoped for, his circumstances were not different. He still struggled with finances and non-recognition, that's when he decided to start his own production company, Evolve Entertainment.
"We as Evolve Entertainment want to show the world that the Kenya film Industry has a lot to offer. Our aim is to put Kenya out there in a good light apart from the cliché notion of hunger and poverty," he says.
"We want to think out of the box and perhaps if everyone else is thinking out of the box we are trying to think inside of the box."
As a blogger for Actors.co.ke, Kaiyare had the opportunity to meet up with leading actors in the Kenya Film Industry such as Lizz Njagah Konstantaras where after reading the script he adds that Lizz was really impressed and took up the project.
He expressed that he still faced difficulties in casting due to the fact that his company was new, small time as others would describe. Two days to the shoot, one of the main actors did not show up and recasting had to be done setting the project back.
"We need to support our own and nurture talent so that it grows here first, for example we are all celebrating Lupita (Nyong'o) now but when she was in Kenya no one gave her the recognition especially when she produced a really good documentary."
"People from the outside world need to recognize our talent then us here back home will celebrate you that's a very bad mentality, it doesn't make sense! Charity begins at home," he advises.
To vote for Deceit for Best Online Video SMS the code 1B to +2783142100415 or visit www.africamagic.tv
The AMVC awards are a highlight on the continents entertainment calendar and shall be screened live from Victoria Island, Lagos, Nigeria on Saturday March 8.
The Awards will be broadcast on Africa Magic Entertainment channel 151 on DStv at 1800 CAT.-capitalfm.co.ke