Kenyans Kirui and Lekapana secure a double at Bath Half 2014 in UK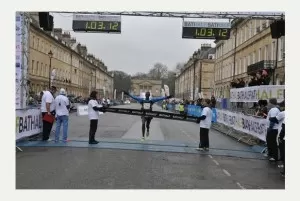 The 33rd Bath Half saw another African double as Nicholas Kirui and Perendis Lekapana raced to emphatic victories.
It was the seventh time in the past 11 years that runners from the continent have taken the spoils, with Kirui edging clear of compatriot Boniface Kongin in the closing stages to record a solid time of 63mins 13secs.
That was well outside the course record of 62:01 – set by fellow Kenyan Edwin Kiptoo two years ago – but in the cold conditions it was a fine effort.
Lekapana's 70:53 clocking was the fourth fastest winning time by a woman in the history of an event that was first held in 1982 and at 21 she seems destined for much better things. As in the men's race it was a Kenyan one-two, with Gladys Kwanbai the runner-up.
-bathchronicle.co.uk