Photos: Colorful Ordination Ceremony Of James Ngige of DFI Church Maryland
Photos: Colorful Ordination Ceremony Of  James Ngige of DFI Church Maryland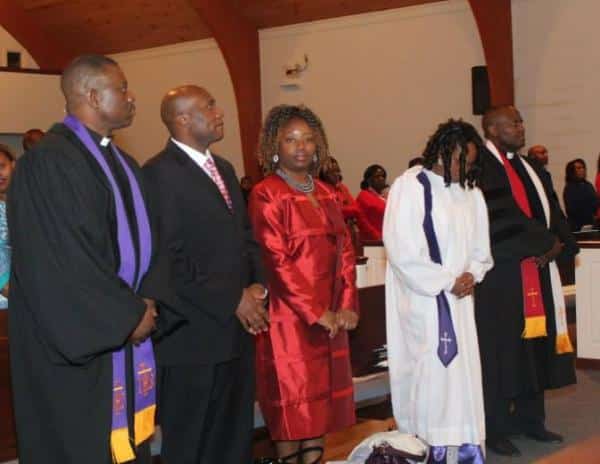 Bro James Ngige, an elder and minister of praise and worship at Disciple Fellowship International Church in Silver Spring Maryland was on Sunday,March 2nd 2014 ordained as a minister of the Gospel.
The event attracted a large crowd of people who came to witness the solemn  occasion.Among those in  attendance was Rev,Paul and Margaret Kiilu of Delaware,Pastor Hezron  Mukuria of Richmond Virginia and Rev,Dr.James Njoroge from Virginia.The Ordination was conducted by Bishop,Dr.Paul Mulani,senior pastor of DFI Church assisted by Rev.Linje Nankhuni.
Bro James Ngige was raised up in a Christian home by Christian parents. He grew up attending Presbyterian Church of East Africa. Although he was active in Sunday School, Boys and Girls' Brigade, as well as youth ministry, he didn't have a personal relationship with Jesus.
When James was in boarding high school that was far from his home area, he started thinking that he now had the opportunity and freedom to indulge in the worldly things he would not have been able to do when he was closer home and around the people who knew him. However, though he attempted to stray from the way of his upbringing, he found out he could not because God had a better plan for him. By the grace of God, he was introduced to the school's Christian Union by the first friend that he met upon arriving at the school.
One morning before the end of the semester, during one of the Christian Union's weekly meetings, there was such a powerful move of God as the word of God was being preached. The presence of God was clearly manifested through the preaching of the gospel. As a result, James, being under heavy conviction of his sinful life without God by the Holy Spirit, surrendered his life to Jesus Christ as his personal Lord and Savior. This was the beginning of a long journey in Christ Jesus. He has since then loved Jesus, and by the grace of God, has wholeheartedly followed him ever since.
Bro Ngigi became a member of the school's Christian Union and continued to attend his local church when schools closed. He started serving God as a youth leader, and was later ordained as a church deacon and thereafter, as an evangelist. Bro James has also served with Global Mission, a partner mission of U.S.A. National Capital Presbytery of Washington D.C. and P.C.E.A. Elburgon Presbytery in Kenya, before immigrating to the USA in 2002.
After James settled in the US, he continued serving God faithfully at Umoja Int'l Church, Silver Spring, MD, and later joined Disciples Fellowship Int'l Church (DFIC) in Silver Spring, Maryland, under the pastoral leadership of Bishop Dr. Paul Nzomo Mulani. He has been serving in DFI Church as a church elder and the minister of praise and worship.
A few years ago, in order to receive more ministry training, he enrolled in a seminary in Indiana, NewBurg Theological Seminary, where he graduated last year with a B.A. in Pastoral Leadership. He's currently pursuing an M.A. in Christian Counseling and hope to graduate soon.
James is a loving dad and husband, in addition to being a well-hearted and humble servant of God. He is married to Shelmith Kiarie, and together have been blessed with a son, Nathan Ngigi. All are saved and serve God at Disciples Fellowship Int'l Church, Silver Spring, Maryland.
FOR MORE PHOTOS,CLICK HERE
Photos: Colorful Ordination Ceremony Of  James Ngige of DFI Church Maryland