Kenyan Diaspora girl in need of help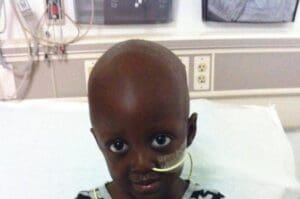 Zarah Jeri  Kimotho whom most people know as Zee is a beautiful, lovely three and a half year old girl who was diagnosed with a stage 4 rare childhood cancer known as Neuroblastoma.  Neuroblastoma is a rare type of cancer that almost always occurs in infants and young children. Zee was diagnosed at Stage 4 which means it had spread to her bone marrow. She underwent several treatments at Children's Hospital in Dallas Texas. This included seven rounds of chemotherapy, twelve rounds of radiation, bone marrow transplant and immunotherapy. In January 2014 she did not have any evidence of the disease in her body.
She went for her follow up scans in March 2014, and unfortunately she had relapsed and the tumor was in her lung. She immediately had surgery to remove the tumor and had part of her right lung removed to try and get rid of this cancer. She started chemotherapy thereafter until recently.
While undergoing chemotherapy in July 2014 she started to cough and have symptoms of pneumonia. She was treated with antibiotics for a week but the cough didn't completely stop. Given her history her oncologist decided to do a CT scan. The CT showed the lung mass had come back more aggressively and also there was another one behind her kidney. This being her third relapse the family is trying alternative treatments offered in other states in addition to chemotherapy and radiation.
Zee's family has been devastated by this disease given the length of treatment and it has taken a toll on them both emotionally and financially. They have spent many hours, dollars and mileage taking care of their daughter. Zee has been hospitalized so many times for treatment, and in between for infections, blood transfusions and rehydration. Zee's mother had to stop working to take care of Zee and her sisters. As you can probably imagine Zee and her family need all the help and support they can get. If you would like to help this family, please join us and give what you can. All the money collected will go to help this family pay for Zee's treatment, care, and travel expenses as they seek alternative treatment. Thank you.
Click Here to help