'Vitimbi' Makes a ComeBack on Mnet-Maisha Magic
'Vitimbi' Makes a ComeBack on Mnet-Maisha Magic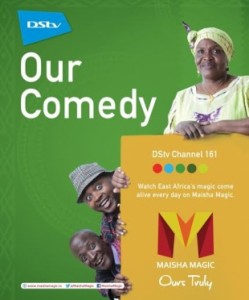 Mnet officially launched their East African focused Tv brand (Maisha Magic) on the 1st of September, 2014 at Safari Park Hotel. The launch was well organized to say the least, guys had dressed up and the food…don't get me started on that.
I got to meet and see many celebs and actors that night, most that I only got to see behind the Tv while growing up. I saw Mama Kayai! Wah! I'd be lying when I say I wasn't jazzed. Mama Kayai is an actress, dear 'young' readers.
During my carefree child hood days, Mama Kayai 'ruled' the entertainment industry together with Mzee Ojwang'. I used to watch this couple during 'Vitimbi Show' they were the typical African Alejandro and Camilla of them days. Remember the show? Good, now stop lying to people around you kuwa you are young.
This recognizable couple has been together for 29 years in Vitimbi, and if like I you thought they were done with acting, think again. Maisha Magic has made a home for this recognizable couple at Channel 161 on DSTV.
On the 6th of September, just last week Saturday, 'Vitimbi Comedy Show' was aired, same concept still lies the difference is the modernized version of it and this time around, the Comedy Show is shot at the Mnet studios. You get to see other comedians to; Mogaka, Ngomongo, Nyasukuta among others.
Stay tuned.