Westgate anniversary:Unity our best chance,Uhuru tells Kenyans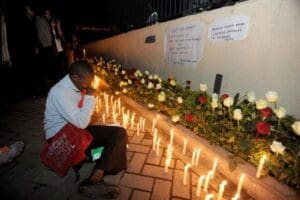 On this date a year ago, we all experienced a shock that will live with us forever.
The full scope of this shock is still coming home to many, not least the survivors of the terrorist attack at Westgate Mall, their families and those of the 67 who sadly perished.
That day, we stopped inhabiting the delusion that as long as we wrong no one, all the world will do right by us.
We learnt that unimaginable horror, unspeakable evil and intolerable pain can accost and devastate us at the most ordinary times and in the most mundane places.
We saw fully the unbearably monstrous face of pure evil, revealed to us by fellow humans who are capable of the most horrific, senseless and gratuitous meanness.
We also witnessed another bold truth: That ordinary people are capable of truly extraordinary feats of compassion, selflessness, and solidarity.
That in the ugly face of atrocity, the beauty of human empathy can make all the difference.
That in the dark moments of anguish and torment, the light of empathy and love can shine brightly.
I will never forget the spontaneous outpouring of human kindness and philanthropy witnessed at that time.
Most certainly, our experience of the events surrounding the Westgate horror encompassed humanity's moral paradox: Our capability for infinite good, and the proclivity of certain ones amongst us for profound and incorrigible evil.
Our universe is a delicately calibrated moral scale, and we lie on one side or the other of its arms.
Our every act adds to the one or other side of this scale.
At Westgate, we witnessed human beings waged in a deadly battle to pull the scales their preferred way.
I am grateful and happy to recognise that in Kenya, we pulled as one people on the side of good, and prevailed against the desperate exertions of stupid, cruel and cowardly criminals.
We lived up to what we have always stood for, and proved yet again that no force in the world can stand against Kenyans' love, unity and selfless patriotism.
Someone wanted to change the essential character of our society, and by asserting it, we demonstrated why we must always remain open, democratic, united and diverse.
In this sense, the vital integrity of the social foundations of our national character was demonstrated. As a united people, we are a mighty lion, completely unshaken by the clamour of all the rats in the world.
On September 21, last year, we did not so much lose our innocence as discover who we really are and what we stand for.
Since then, we have pushed with greater resolve to defeat terrorists and criminals who target innocent people living in Kenya.
We have maintained our focus in Somalia, where our defence forces continue to incur heroic sacrifices to defeat terrorists and their sponsors.
We have fixed our security apparatus to become one formidable machine capable of keeping Kenya safe.
We have transformed it in terms of outlook and resources, all the way from intelligence gathering, analysis and appropriately informed strategy, to better equipment and technology for our security services.
We have also increased the number of security personnel, ensuring that their training meets our security needs.
My Government is sparing no resources, or wasting any moment in ensuring that every passing day, we become better at keeping Kenya safe. Safe for families and children. Safe for our youth and our workers. Safe for our visitors and investors. Safe for you and me.
I am grateful that the political leadership in all its diversity joined my Government in expressing solidarity and resolve to stand with and for Kenya against our vicious enemies.
I urge all leaders to maintain this unity and avoid the temptation to politicise national security.
We have all seen the gains made from our defence forces' assignment in Somalia.
We must not betray Kenyans by suggesting that the work be abandoned uncompleted.
We owe it to our country as well as our brothers and sisters in Somalia to stay the course until the mission is completed so that East Africa and the Horn of Africa enjoy peace and stability.
My Government is doing everything it can, and succeeding. A great deal of commendable effort has been expended by our security institutions to prevent terrorist attacks.
However, every single lapse, every terror attack is unbearable. Every life lost or person injured can make hundreds of successful preventive efforts seem meaningless.
Human life is fragile and precious. Our aim is to make Kenya terror-proof in order to ensure the secure environment required to achieve prosperity and happiness.
We must continue working together. I urge all people to support the Government's efforts and accept the sacrifices of our comforts with good grace.
Look kindly upon our servicemen and women. Wish them well and pray for them and their families, because they stand ready to rush into harm's way for our sake.
Let us stay vigilant at all times. My Government supports every effort to maintain our collective resolve never to let evil prevail in any part of this country.
Finally, let us think about the victims and survivors of terrorist attacks in Kenya and elsewhere in the world.
Let us remember the dead and honour their memory.
Ultimately, our solidarity, compassion and unconditional love are the only cushion we have against the designs of our enemies, other threats and challenges to our communities and nation.
The best memorial for those who have fallen in the hand of terrorists is one Kenya, one people living as a single national family.
-nation.co.ke