Kenya to extradite suspected drug kingpins to US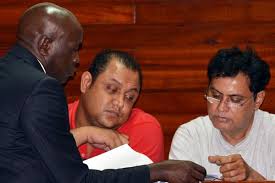 MOMBASA, Kenya, Nov 13 – A Kenyan court ordered police Thursday to process the extradition of four suspected drug traffickers to the United States, amid concerns of east Africa's growing importance as a smuggling hub.
The four — two Kenyans, an Indian and a Pakistani — were arrested last week with 98 packets of suspected heroin, and were subject to an Interpol "red notice" from the US for their arrest.
"Kenya is under a duty to cooperate because international crime has hurt Kenya a lot," magistrate Maxwell Gicheru told the court in the port city of Mombasa.
The four, who were remanded in custody while police process the extradition request, are due in court again on December 1.
Two, Baktash Akasha Abdalla and Ibrahim Akasha Abdalla, are members of a Kenyan family linked to several drug trafficking trials.
Their wealthy father, Ibrahim Abdalla Akasha, was gunned down in Amsterdam in 2000, after fleeing Kenya where he was sought in connection with the seizure of several tonnes of hashish.
The two other suspects are Vijaygiri Anandgiri Goswami, an Indian, and Kulam Hussein, from Pakistan.
With drug smuggling routes from Asia through the Middle East hampered by conflict and tougher border restrictions, traffickers have increasingly turned to east Africa as a transport hub, according to the United Nations Office on Drugs and Crime (UNODOC).
While heroin has been trafficked through east Africa for the past three decades, UNODOC said in a recent report that a series of "large seizures" of Afghan heroin suggests trade is increasing, often smuggled on traditional dhow boats from the coast of Iran and Pakistan.
In April, British and Australian navies seized the largest ever haul of heroin at sea, weighing 1,032 kilogrammes.
The drugs, worth some $235 million (170 million euros), were found on a dhow some 30 miles (50 kilometres) off the coast of Kenya and Tanzania.
East Africa has a small but growing domestic market for heroin, but the vast majority shipped to Kenya and Tanzania is believed to be then moved onwards to South Africa and west Africa, and potentially on to Europe.
-capitalfm.co.ke