ICC Prosecution to close case against Ruto, Sang in 2015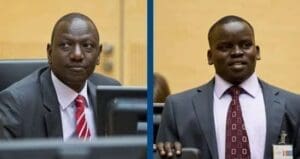 NAIROBI, Kenya, Dec 10 – The International Criminal Court (ICC) Prosecution is expected to close its case against Deputy President William Ruto and Journalist Joshua arap Sang in 2015.
According to Trial Chamber V (a) Presiding Judge Chile Eboe-Osuji the prosecution will be required to close its case within the trial sessions that kick off on January 16, 2015.
"In light of indication we have given to the prosecution that we want this case completed in those sessions already indicated for next year we will be holding a status conference immediately after the completion of Mr Garcia's and Mr Khan's examination," he explained.
Ruto's Lawyer Karim Khan is expected to complete his cross-examination on Thursday after which Trial Attorney Lucio Garcia for the prosecution will ask the 27th witness some questions.
Judge Eboe-Osuji indicated that the status conference will be held on Friday to discuss the next sessions of the trial against Ruto and Sang.
Since the trial against Ruto and Sang kicked off on September 10, 2013, 27 witnesses have testified.
Four of the witnesses testified under summons to appear after they recanted their evidence or said they were no longer willing to testify and withdrew their evidence.
All the four witnesses appeared at the trial stage but recanted their primary testimonies given to the ICC investigators which saw them earn the title of 'hostile' witnesses.
Of the nine compelled to testify, the prosecution will inform the court if they will appear to give their evidence during next year's trial sessions.
Once the prosecution close its case in which it has been presenting evidence to prove the criminal responsibility of Ruto and Sang for the crimes committed in the Rift Valley region during the 2007/2008 Post Election Violence, the defence teams will be invited to make final submissions.
However, judges of Trial Chamber V (a) allowed the two teams to file a motion of no-case-to-answer should they wish to do so.
With a motion of no-case-to-answer, means that the defence will not argue its case but will let the judges to make a decision based on evidence presented by the prosecution and their argument during cross examination as well as other applications made to the court regarding the case.
If there will be no motion of no-case-to-answer, the defence teams will then present their defence where they will be free to call their witnesses to counter the prosecutor's allegations.
-capitalfm.co.ke