ODM in panic mode as Moses Kajwang is 'rejected'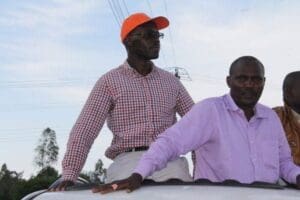 Panic has gripped ODM following the hostile reception its candidate for the Homa Bay senatorial by-election has received.
Party strategists are said to have retreated to the drawing board ahead of the official campaign period.
For two consecutive days, violence has marred Moses Kajwang's introductory tour in an area widely perceived to be an ODM stronghold.
Mr Kajwang' hopes to succeed his brother, Senator Otieno Kajwang', who died six weeks ago.
The ugly scenes should have been expected given the uproar that greeted Mr Kajwang's selection as ODM candidate. However, the magnitude has left strategists scratching their heads.
The National Elections Board's choice of Mr Kajwang' saw party leader Raila Odinga's loyal allies ditch ODM.
After Sunday's gun drama at Olare where four people were injured, party loyalists MPs Oburu Oginga (Nominated), Opiyo Wandayi (Ugunja), Fred Outa (Nyando) and Aduma Owuor (Nyakach) did not return to accompany the candidate on the tour of Suba and Mbita.
This came as police accused the Independent Electoral Boundaries Commission on Tuesday of failing to inform them of ODM's activities.
County police boss John Omusanga wants IEBC and ODM to explain why those involved in the fracas have not been punished.
"We'd agreed on the rules and IEBC should have reported the party's activities to us. They violated an agreement we had," he said when he visited IEBC offices.
Meanwhile, Kabondo Kasipul MP Silvance Osele who on Sunday was in the campaign team, later withdrew upon arrival in Kendu Bay Town.
Mr Osele defended his action blaming some colleagues of hijacking the campaigns to advance their own agenda.
"Engaging in unnecessary attacks on fellow MPs and calling other candidates names was wrong," Mr Osele said on Tuesday.
However, Party chairman John Mbadi, MPs Gladys Wanga (Woman Rep), Joseph Magwanga (Kasipul) and Peter Kaluma (Homa Bay Town) held onto the campaigns.
Mr Odinga had promised that the candidate would be picked in an open process, a pledge the rest of the candidates have accused the party leader of reneging on when he allowed Mr Kajwang's candidature.
-nation.co.ke