Coast pastors renew call to own guns after Mombasa attack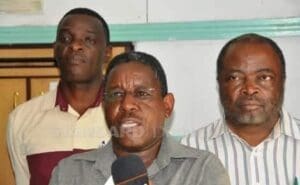 MOMBASA: In the wake of another church attack in Mombasa, Christian clerics have renewed their calls to be provided with armed guards.
In addition, the clergy want increased police protection during church services. The calls come days after gunmen riding on a motorbike stormed a church on Sunday, killed one person and wounded several others.
The church ministers first made the demand to be given guns in October 2013. They made a similar demand when they met Mombasa Deputy County Commissioner Salim Mahmoud yesterday.
Under the Mombasa Church Forum, the meeting discussed Sunday's murder of a worshiper who was entering the Maximum Revival Ministry Church at Mvita Primary School.
The preachers requested armed bodyguards amid reports that some of them had sought to present a petition to be issued with firearms "for self protection against religious opponents".
Speaking after the closed-door meeting, Lambert Mbela of the Redeemed Gospel Church claimed churches are being targeted by unknown attackers in the increased wave of crime.
"We have just had a very fruitful meeting with the deputy county commissioner and pressed him to ensure that there is adequate security for all and sundry," Bishop Mbela.
ARMED BODYGUARDS
He added that the forum also sought bodyguards and additional police protection of churches and congregations.
The Standard later learned that State officials present at the meeting did not make any firm undertakings and informed the preachers that deployment of bodyguards is a process that takes time to implement.
Mr Mahmoud declined to divulge details of the meeting only saying discussions were "a meeting of only three people" and not Christian pastors as a whole.
The pastors said they demanded that the Government carries out elaborate and conclusive investigations into the killing of faithful.
Mbela first made the demand in October 2013 during the burial of Charles Mathole of Redeemed Gospel Church in Vikwathani, Kisauni constituency. Pastor Mathole was attacked in Kilifi and his attackers have never been arrested.
"Even the rallying call by President Uhuru Kenyatta is that security starts with you. If for any reason as pastors we feel insecure then we should be accorded armed bodyguards just like Cabinet secretaries or other Government VIPs," Mbela had said.
He then suggested that pastors should be allowed to apply for firearms to defend themselves.
"We strongly believe that the Government should think ways to help people secure themselves," he said.
-standardmedia.co.ke