Uhuru on offensive to limit damage of sugar deal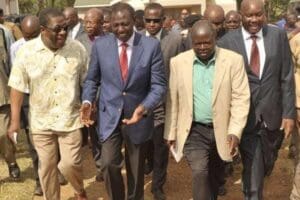 The Jubilee administration on Friday went on the offensive in a bid to limit the political damage of the yet-to-be made public sugar trade deal with Uganda.
The ruling coalition leaders were in various counties in the sugar cane growing belt.
The coalition had made some inroads in the regions of western Kenya but all that is now at risk of being wiped away by the controversy surrounding the trade agreement President Uhuru Kenyatta reached with his Ugandan counterpart Yoweri Museveni.
On Friday, the president who was in Kisumu to attend a schools music winners festival, was cheered by wananchi at various stop overs when he said his government will revive ailing industries in the region.
Although he did not speak directly about sugar, Mr Kenyatta said he will work to revive the cotton industry and make Kisumu the hub of East African integration projects.
And Deputy President William Ruto led a host of Jubilee leaders in a foray in Nambale, Busia County where he criticised Cord leader Raila Odinga who has used the outcry over the sugar deal to endear himself to voters in the region.
On Thursday, MPs from Western snubbed a meeting called by the President at State House to discus the issue.
Instead they met Mr Odinga and demanded that the president makes public details of the pact under which Ugandan sugar will be sold in Kenya.
And on Friday, Saturday Nation established that Government operatives were still making frantic efforts to convince the leaders to agree to talks on the matter.
"It's only the Government which can sort out the mess in the sugar sector…the Opposition can only lament," Majority Leader Aden Duale said in Busia.
The President now finds himself in a tight corner where he has to balance Kenya's obligations to regional economic blocs and local political interests.
Under the EAC and Comesa protocols member countries are allowed to import sugar from each other to meet deficits and so technically, there is no problem with Kenya importing the commodity from Uganda which produces 23,100 tonnes daily.
However, Mr Odinga and other leaders argue that sugar barons will use the pact to flood Kenya with Brazilian sugar disguised as originating from Uganda.
In an apparent bid to address these fears, Industrialisation minister Aden Mohamed yesterday said the governmenty will put in place measures to ensure this does not happen.
President Kenyatta was warmly received in Kakamega when he handed over a Sh1 billion cheque to help in the revival of the ailing Mumias Sugar Company, Kenya's biggest producer.
On Friday, ODM secretary general Ababu Namwamba hinted that the Uganda sugar pact could have perilous outcome for the Jubilee administration when he said the welfare of their people overruled everything else.
"Choices have consequences. We lead a people who are fully aware of what is happening around them. At the end, they will see who is sincere and who is insincere to them. They know when one is keen to help them meet their welfare and when they are being taken on a political ride for votes. As leaders, we will guide them accordingly," he said on phone.
The former Western province which boasts at least six million eligible voters is seen a swing vote region by the Jubilee and Cord Coalitions.
It is home to the third political force led by the Amani National Congress leader Musalia Mudavadi who said that the region should learn to wean itself from the two blocs.
"What the sugar deal has shown is that there are lessons that our people have to learn and that is to stand together to protect their interests by joining up in one political vehicle," he said.
Lugari MP Ayub Savula, who has had close ties with State House, demanded that the deal with Uganda should be made public before leaders meet the President.
"I am not going to compromise on the issue of sugar because it is the livelihood of my voters. All the cards need to be placed on the table before we talk. We do not want to play with wild cards hidden under the table," he said on phone.
Mr Duale and his Senate counterpart Kithure Kindiki, Senators Charkes Keter and Kipchumba Murkomen and MPs Moses Cheboi, Eric Keter, Tiya Galgalo, Leonard Sang and James Lemenon attended functions in Kericho and Webuye before joining Mr Ruto in Nambale where they urged Western Kenya leaders to meet President Kenyatta over the sugar deal.
''The sugar industry did not start facing problems recently. The problems we are witnessing now were worse when there was a coalition Government where Raila was a shareholder," said Mr Duale.
Mr Odinga's Thursday meeting resolved to conduct intensive political rallies in the sugar belt region to campaign against the Uganda sugar deal. The rallies would be held in Bungoma, Homa Bay, Kakamega, Busia, Kisumu, Migori, Narok and Kwale.