Kenya Political Drama:Satirical look at 10 newsmakers of year 2014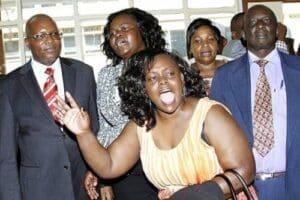 ADEN DUALE -Order of the Volatile Warrior (OVW)
Until recently, Duale was not known to many Kenyans. He was just another small-time first-term MP from the vast dusty northern Kenya frontiers.
But all this changed in the Eleventh Parliament when the shifta's son, as Duale self deprecatingly refers to himself, rose to become Kenya's first Majority Leader in the National Assembly. He has become a most forceful leader pushing through Parliament virtually every motion sponsored by the Executive. And he is also a political brawler. If he is not telling a certain governor, "pesa hii si ya mama yako bwana," then he is reminding the Opposition leader, "you will never be president of Kenya," or even telling off the president from harassing members of "my Somali community". For his dare-devil and bullish style, the shifta's son takes to his Kraal the OVW award.
MILLIE ODHIAMBO – Order of the Tempting Star (OTS)
The Mbita MP fondly referred to as Nyar Suba (lady from Suba), by parliamentary colleagues, is a darling of many. Not just for her "natural disdain" for Duale and others of his ilk in Jubilee or ability to speak her mind, but also for her oratory skills, good looks and super features. An extrovert with a burning opinion on almost everything, the tempting Nyar Suba mostly has nothing to hide. And recently she literally gave meaning to this spirit when she let go her innerwear that one MP allegedly tried to pull down. This was during the madness witnessed during the passage of the controversial security Bill. She is doubtlessly the 11th Parliament's tempting star.
MOSES KURIA –– Chief of the Burning Speech (CBS)
Besides allegedly molesting a parliamentary colleague during the recent fiasco in the National Assembly, the Gatundu South MP has lately made frequent appearances in courtrooms. He has this burning urge to speak on anything and has often been accused of using uncivil language on social media. But the youthful MP is a newsmaker for another curious reason – registering history in the Eleventh Parliament by automatically becoming a legislator without securing even a single vote.
UHURU KENYATTA ––– Distinguished Public Relations Medal (DPRM)
If he is not offering a cup of tea to editors at State House, then he is adorning a Gor Mahia or Sofapaka Soccer club T-Shirt and happily mingling with players, congratulating them for winning trophies locally. Alternatively, the President will be dining with best actors in the schools drama or music festivals. In fact he has even adopted one of them as his son. And when he recently had a date at the International Criminal Court (ICC), he dramatically "surrendered" the presidency to his deputy, William Ruto. Even in the face of adverse insecurity, the ever-smiling and selfie-loving president has remained a darling among supporters. For totally demystifying the presidency and for his closeness to his subjects, UK bags the DPRM honours.
RAILA ODINGA –– Golden Elder of the Multiparty Siasa (GEMS).
His age notwithstanding, he has remained the undisputed Opposition leader, with almost no succession machinations in sight. His absence from the country, as was the case early last year when he was on a sojourn in the US, has often left the Opposition clueless. He seems the only figure with potent antics that give Jubilee sleepless nights. From his old bag of multiparty gems, he has been able to throw in one trick after the other — national dialogue, referendum, "Okoa Kenya", mass action, etc — to keep the Uhuru administration on its toes. For his endless gems and ingenuity in keeping Jubilee awake, Raila is the undisputed winner of the GEMS award.
ANN WAIGURU ––Order of the Rising Star (ORS)
Exit Raila as Prime Minister enter Ann Waiguru the Devolution and Planning Cabinet Secretary. She is not only referred to as "Madam PM" because of the powerful docket she handles, but she has also stormed Raila's old constituency of Langa'ta, where she is spearheading some of the former PM's unfinished projects in Kibera. Whether she is targeting the ODM leader politically or not, there is no denying Jubilee's iron lady is a hard worker. Curiously, one of her key confessed admirers is Raila's own sister Ruth Odinga who is Kisumu County deputy governor.
ABABU NAMWAMBA ––– Wilful and Skilful Conduct Medal (WSCM)
Over the last one year, his attributes have oscillated between a mole and hero, or is it a champion and a rebel? Last February he staged a spirited campaign to serve in the all-powerful position of Secretary General of the imposing ODM, believably against the wishes of party supremo, Raila Odinga. The man from the flood-prone Budalang'i area nearly rocked the ODM boat as a result. But the storm seems to be over and the ODM boat is relatively calmer with the vocal MP finally at helm of the Orange party. Until his confirmation as SG, Ababu has been fierce defender as well as critic of his party leader, making him a skilful politician.
JOSEPH OLE LENKU –– Order of the Waning Moran (OWM)
Despite hailing from the proud and brave community of morans, Lenku miserably failed to shine and he dominated news pages all for the wrong reasons. From the time he was nominated to the critical position of Cabinet Secretary, Interior, Security and Coordination of National Government, he remained a punching bag for all manner of criticism by all and sundry. Why the President opted to put the hotelier in this hot soup, remains a mystery. In the same quiet manner that he fished him from Utalii College, where he worked, the President has quietly eased him out of the system.
KIVUTHA KIBWANA –– Chief of the Order of Bravery Award (CBA)
The people of Makueni County have petitioned the president to dissolve their County Government and any time soon, Kibwana could be a jobless citizen. It all started with a ploy by Members of County Assembly (MCAs) to teach the governor a lesson by impeaching him. But the professor of law may well be the one teaching the MCAs a lesson. Having successfully painted them as greedy individuals with sticky fingers, the professor initiated a process "for everyone to go home" so that he can start on a cleaner slate with cleaner leaders. Whether he succeeds or not, the veteran of the struggle of democracy has offered a great lesson over the growing series of impeachment plots. For his bravery, Kibwana is the CBA hero.
DAVID MATSANGA – Master of Theatrics(MOT)
Much as he is not Kenyan, it is difficult to ignore Dr (or is it Prof?) Matsanga's contribution to the country's political discourse. Fashioning himself as a Pan-Africanist, the Ugandan has been more restless than the Kenyans themselves on ICC matters. Matsanga is a constant guest on TV shows where he gesticulates furiously in favour of Uhuru. The Ugandan has further whittled down his concern to the people of Nyeri County. He has been questioning their wisdom of electing Priscilla Nyokabi, whom he alleges "implicated President Uhuru Kenyatta in the ICC Crimes". For crying louder than the bereaved, the foreigner bags an award in the local competition.
-standardmedia.co.ke