Kidero suspends 18 county officials over collapse of Huruma building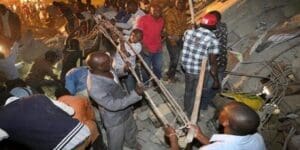 Nairobi, Kenya: Nairobi Governor Evans Kidero has suspended 18 officials at the county following the collapse of a house in Huruma where four people were killed Sunday night.
Those suspended are from Housing and Planning department. Kidero took the action after preliminary findings showed the officials had failed to enforce the law.
Among those suspended are Rose Muema, Chief Officer in charge of Planning, Urban Development and Housing, Jairus Kathenge who is the Director of Enforcement and compliance as well as 16 others in the line department.
"We will get to the bottom of the matter and move to other areas in the County. There must be sanity in this sector and let the other affected officials know their day is coming," said Kidero.
Search and rescue efforts continued yesterday at the rubbles following reports that more people could be trapped after the seven-storey building went down on Sunday night.
National Disaster Management Unit Deputy Director Pius Mwachi said eight people are still reported missing.
"We are hopeful that we will rescue more people by the end of the operation. The rescue will take a longer time since it's a complicated process and we have to treat it with care," he said.
The exercise was on the fourth floor and there are fears many people who had escaped through the staircase were trapped at the lower entrance.
Acting Inspector General of police Samuel Arachi, lands and housing Principal Secretary Mariamu El Maawy and director of CID Ndegwa Muhoro visited the scene of the incident.
Cases of collapsing buildings have been on the rise in the past months with no action being taken on those responsible.
-standardmedia.co.ke