Kisumu East MP Shakeel Shabbir hospitalised with food poisonong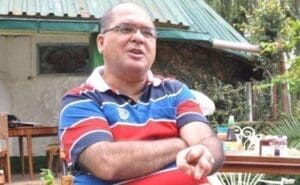 Kisumu, Kenya: Member of the National Assembly for Kisumu East Shakeel Shabbir has been admitted at Kisumu's Aga Khan Hospital.
Shabbir was rushed to hospital in what was suspected to be food poisoning.
Speaking at his hospital bed, Shabbir said he could not clearly recall where he might have eaten 'something bad'.
He narrated how he started feeling unwell on Sunday night. He was shivering despite covering himself warmly and suffered severe diarrhoea accompanied by a very high fever which escalated on Monday 4am.
His wife wanted to bring him to the hospital at that time but he pleaded with her to wait until eight in the morning as they monitored the situation.
Shabbir even attended a meeting in the morning in his constituency where he only took coffee but was still not feeling well forcing him to go to Aga Khan.
"I went to see a doctor at Aga Khan and he told me that I was dehydrated and was concerned about my health. He wanted to find out the extent of the food poisoning," said Shabbir.
Shabbir tried to trace the places he had visited on Sunday saying he had attended a funeral at Manyatta Estate and later joined Cabinet Secretaries Fred Matiang'i (ICT) and Phyllis Kandie for the official opening of Wigot Hotel in Kisumu.
He however stated that he never took any meal at the two functions.
"Last night I took food prepared by my wife and I think it can be some chicken I ate in Nairobi or maybe the food I took in school," said Shabbir.
The legislator said his aides are always very particular about what he eats or drinks and he doesn't take any bottle of water unless it is brought by his Personal Assistant.
"I have had diarrhoea before but never in this manner with such a high fever in my life. I hope the doctors will tell me what is really happening to me," said Shabbir.
By 3pm Monday, Shabbir said he was feeling very weak and was to stay overnight at the health facility even as his blood samples were taken for further scrutiny.
Aga Khan Hospital Medical Director Dr Sam Oula confirmed that Shabbir had been hospitalised and would spend Monday night at the hospital.
"Tests had been run on Shabbir and the results revealed that he had suffered food poisoning and severe diarrhoea," said Dr Oula.
It is barely a week after Shabbir's counterpart for Kisumu West John Olago Aluoch was flown to Nairobi for treatment. Olago, who is now recovering had collapsed while having breakfast at his Kanyakwar home after he suffered a spinal strain.
-standardmedia.co.ke