Pastor arrested over Magu family deaths released on Sh2 million bail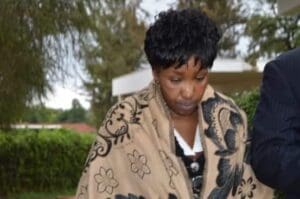 A pastor arrested over the mysterious Magu family deaths was released on a Sh2 million bail by a Kiambu court on Wednesday.
Ann Wambui denied aiding lawyer Paul Magu's suicide in Makongeni, Thika, between November 23 and 26, 2014.
The prosecution had asked the court to deny Wambui bail saying the charges against her attract the life imprisonment sentence making her a flight risk.
It also argued that investigations on leads to other suspects are ongoing and that other charges may later be filed against Wambui.
Chief magistrate John Onyiego said the prosecution's arguments were not compelling enough but ordered Wambui to report to the CID headquarters every Friday for two months.
Wambui had been in custody for 39 days.
The case will be mentioned on January 21 and heard on February 12.
Magu, who was a lawyer, allegedly killed his wife Lydia Wangui and their three children Allen, Ryan and Tiffany and dumped their bodies before committing suicide in November last year.
– the-star.co.ke