Sad Photo:Kenyan girl in isolation room in Arab central hospital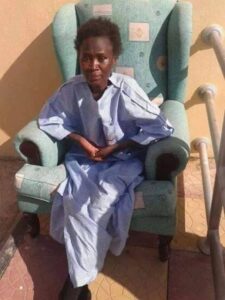 As many of our Kenyan men and women are killed, assaulted and abused, It's so painful to think that the rogue agents who are sending them to the Middle East are operating with total impunity, enjoying the great weather and Kenyan hospitality.Also it is sad to think how long this have been going on without the Government of Kenya taking serious consideration.
Almost every day we are reading about a Kenyan killed,abused to a point where they are calling home desperately looking for help or are homeless out there wondering about after they managed to run away from abusive employers in the Middle East.
According Janet Africanacts Wainaina of London,the photo below is of a Kenyan girl who is in  isolation room in Arab central hospital having lost some of her memory after employer assaulted her.This is an acceptable and it is high time the Government of Kenya did something to bring all the suffering to a stop.What is so difficult in asking these Arab countries to observe and enforce worker welfare  standards that are accepted internationally?
-Diaspora Messenger