Wetang'ula, Kalonzo set for Homa Bay rally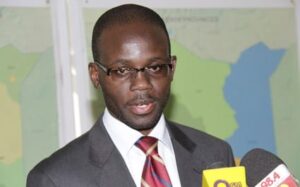 Cord leaders Kalonzo Musyoka and Moses Wetang'ula will lead ODM troops to Homa Bay as campaign for the senatorial seat enters the home stretch.
The by-election is scheduled for February 12.
Candidates are expected to hit fever pitch when Mr Musyoka and Mr Wetang'ula land in Homa Bay to rally forces for ODM candidate Moses Kajwang' on Saturday and Sunday.
Before the trip, the party had organised a harambee for Mr Kajwang's campaign in Nairobi.
ODM leader Raila Odinga is expected to lead a series of campaign rallies for three days in the county after Mr Musyoka and Mr Wetang'ula.
Speaking in Homa Bay Wednesday, Mr Kajwang' revealed that Kakamega governor Wycliffe Oparanya, who is also the ODM Deputy leader, will join the Cord principals in the weekend rallies.
He appealed to his opponents to sell issues instead of focusing on him. "Let us not focus on personalities and instead sell policies to the people," he said.
Mr Kajwang will fight it out with Mr Philip Okundi of Maendeleo Democratic Party, Mr Hilary Alila, an independent, and Mr Fred Nabongo of National Agenda Party
Electoral commission coordinator for Central Nyanza Rasi Masudi Wednesday said critical materials such as ballot boxes and papers were ready and would be sent to all the polling centres by Monday next week.
"The boxes are already at our warehouses in Homa Bay. The papers will be transported in the last two days to the elections," said Mr Masudi.
He added that recruitment of clerks was complete and training of the first batch of election support trainers would be done in Homa Bay Town on Friday.
"Presiding officers will be trained from February 4 for two days; clerks will be engaged in a two-day training starting February 8 in their respective constituencies," he said.
Candidates, who spoke to Nation yesterday indicated that they will intensify their campaigns at the weekend.
-nation.co.ke