I know Muchai killers, says Kazungu Kambi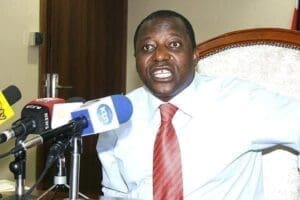 NAIROBI, Kenya Feb 13 – Labour Cabinet Secretary Kazungu Kambi now says he knows the people who plotted the killing of Kabete MP George Muchai and he wants them arrested and charged.
Kambi who spoke during the funeral service of the former COTU Deputy Secretary General said he is ready to quit the government if police fail to arrest the powerful forces behind the death of Muchai and his three aides.
"If those who killed Muchai will not be arrested because we know them, I am prepared to resign," Kambi said. "I am prepared to quit!"
Kambi said there is no doubt Muchai was killed due to his persistent war against corruption which he fought boldly before he started complaining of threats to his life.
"It is a matter that is so open, it is all about corruption he was fighting; people were forging signatures including those of dead people and these are things Muchai was fighting," he said, adding that "Muchai had resisted to be part of the corruption cartels and that is why he was killed."
And to stress on how serious his threats to resign are, Kambi said "I am even ready to die if that is what it means, I have been threatened but I don't fear."
Kambi has vowed to pursue the matter and is even presenting crucial documents to President Uhuru Kenyatta on Satruday after the government pledged to take over a suit Muchai had filed in court.
"I will take all the documents I have to the President, we will not leave this matter just like that because we know this is the case that led to his death," he added.
Muchai who was shot dead last Saturday alongside two of his bodyguards was buried at his Kamulu home in Ruai on Friday, in a funeral service attended by a host of leaders including the Deputy President William Ruto.
-capitalfm.co.ke