How to assist Garissa victims securely through Kenya Red Cross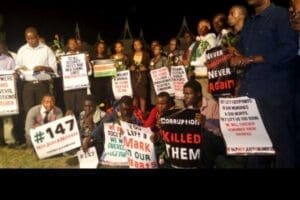 Following negotiations with the Kenya Red Cross on assisting the Garissa victims, Diasporans can now directly send their contributions securely. In what has been dubbed as the #MbaoFriday campaign on Facebook, members of the Diaspora are encouraged to donate at least $20 Starting Friday the 24th of April. Details can be found on the Diaspora4Garissa page with information on the acceptable modes of payment that include Debit/Credit Card, Bank Account or PayPal.
In the aftermath of the attacks, the Kenya Red Cross has been the most visible relief agency and thus prompting this collaboration to facilitate a donation platform for Diasporans. The Kenya Red Cross Director of External Relations, Wariko Waita alongside the technology team worked diligently to provide Kenyans abroad a convenient and secure contribution channel via PayPal.
Efforts on the ground include assistance towards families of the deceased, medical services for the injured, among several other emergency response initiatives. Of great concern however is the hundreds of students who have returned to their rural homes without receiving adequate counseling after the traumatic ordeal.
The Kenya Red Cross estimates they will require anywhere between Kshs. 5 Million to 10 Million ($54,000 to $109,000) for current short term needs. The goal for #MbaoFriday is to have as many Diasporans and Friends of Kenya donate at least $20 starting this Friday, to boost the Kenya Red Cross relief efforts.
Donations will be channeled directly to the Kenya Red Cross, and will be applied towards a special fund for the Garissa Relief. The Finance team at the Kenya Red Cross will provide us with regular updates and a running tally. This will in turn be shared with the public for accountability and transparency. To donate click on the link provided below and For further detail, visit and like the Diaspora4Garissa page on Facebook.
https://www.paypal.com/cgi-bin/webscr?cmd=_s-xclick&hosted_button_id=5U3Y9GR5PD7WA
Questions or concerns that may arise can directly be addressed to the following contacts.
WARIKO WAITA (Director External Relations and Resource Mobilization) Email: [email protected] Phone: +254-703-037000
PETER KERRE (Founder, CyberWasp CyberSecurity Consulting) Email: [email protected] Phone: +1-929-228-8995
NJERI THOMI KARIUKI (Founder, Karisan Media Radio) Email: [email protected] Phone: +1-214-597-4695
HENRY PASHA (Presenter, Karisan Media) Email: [email protected]
ALI BADAWY (Co-Host, The One Mic Show) Email: [email protected]
HUMPHREY MUTURI (Co-Host, The One Mic Show Radio) Email: [email protected]