Governor Kidero sues Senator Khalwale for defamation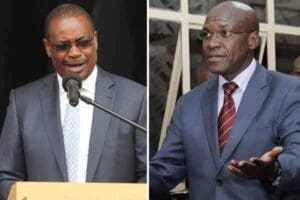 Nairobi Governor Evans Kidero has sued Kakamega Senator Boni Khalwale over remarks that linked him to collapse of Mumias Sugar Company.
Dr Kidero had demanded an apology from Dr Khalwale but the latter declined to offer one.
The Governor accused Dr Khalwale of defaming him during a presidential function at the Mumias Sports Complex.
The Senator had called for the arrest of Dr Kidero, alleging that he was among those behind the collapse of Mumias Sugar Company, where he worked as a managing director.
"Our client demands that you immediately and unconditionally prominently publish an apology to him in at least two leading newspapers of national circulation in the next three days of receipt of this letter," Dr Kidero's lawyer Prof Tom Ojienda said in a letter to the senator.
Prof Ojienda asked Dr Khalwale to publish the apology in at least two newspapers of national circulation.
-nation.co.k