Leaders continue peace tour of northeastern Kenya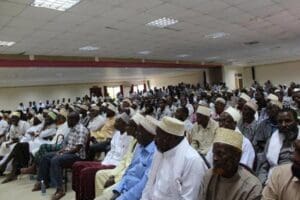 Politicians from Garissa, Wajir and Mandera counties over the weekend began a six day peace mission following the deadly Garissa University College attack that killed more than 140 people.
The leaders, led by the three governors and the National Assembly's Majority Leader and Garissa township MP Aden Duale, held a series of meeting on Friday and Saturday in Garissa and a similar meeting in Wajir on Sunday.
In Garissa, they met separately with all chiefs in the county, religious leaders, women and youth, and elders in an effort to convince them to flush out suspected Al-Shabaab members who claimed responsibility for the Garissa attack.
Addressing journalists on Saturday evening, Mr Duale also said they met with Christians, who have been targeted by the terrorists, to assure them of their safety.
"We have met sheikhs, elders, youth, women and religious leaders. We have agreed that they must come forward and speak about the problem of Al-Shabaab. We have agreed with religious leaders that they will do self regulation through the Council of Imams and Supreme Council of Kenya Muslims (SUPKEM) so that the number of mosques and their imams is known, and if a student of a madrassa is missing their principal will be held accountable," he said.
Mr Duale added that they had spoken to parents whose sons have disappeared and they advised them to come forward and report the missing children to the government so that security agents could identify them.
"We will do an audit on how many people are missing and how many people have gone to Somalia to join Al-Shabaab so that when they return our security officials can easily identify them," he said, noting that this would also deter others from joining the organisation.
Journalists were at some point ejected from the meetings which the leaders said would give people an opportunity to freely express their opinion without fear.
The government at the same time established three hotline numbers and email addresses to report terrorist acts before they happened in the country.
The hotline numbers, +254701632432, +254701632643 and +254701632443 [email protected], will be manned in Nairobi, according to the leaders.
Mr Duale said the numbers were a response to local community fear in reporting disappearance of young people.
"Parents and religious leaders can call those numbers without fear so that there is credible way to report where there is no fear," he added.
Mr Duale told chiefs that there is a need to enhance the Nyumba Kumi initiative so they could know who comes and goes within their jurisdictions.
While meeting with local administrators, Mr Duale said they have responsibility of informing the government of parents whose children are missing so that adequate measures is taken to prevent them from committing terrorist acts.
"You have the responsibility to tell us how many people are missing in your locations, you must come forward to tell us whose parent is missing their children so that plans can be initiated for their return and efforts can be made to rehabilitate them," he said in Garissa.
"Tell us all the people who are missing so that their photos can be screened everywhere and given to security personnel," he added.
Mr Duale said local administrators have a responsibility to report to the authorities the possible hideouts of militants.
The leaders, including more than 30 MPs, the Industrialisation Cabinet Secretary Adan Mohamed, Presidential adviser Abdikadir Mohamed and governors Nathif Jama (Garissa), Ahmed Abdullahi (Wajir) and Ali Roba (Mandera), are expected to have similar meetings in Wajir and Mandera in the coming days.
-nation.co.ke