Two ministers, governors to be charged in graft war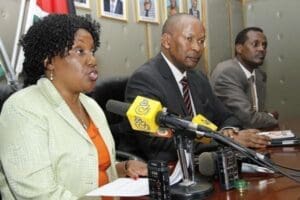 Two Cabinet Secretaries, two governors and the chairman of a constitutional commission could be the first to be charged in the ongoing drive against corruption.
Sources familiar with the investigations told theSunday Nation that at least five investigation files were complete and will be passed on to the Director of Public Prosecution Keriako Tobiko.
If Mr Tobiko endorses the findings, then the first high-ranking state officials will be in court this week, the source added.
Other than the governors and Cabinet Secretaries, a speaker of a county assembly from western Kenya and a county secretary from eastern region will also be charged after the Ethics and Anti-Corruption Commission completed investigations.
"Investigations for the two governors, the chairman of the independent commission and the two high-ranking county officials – the speaker and county secretary – are complete and they should be in court any time from Monday. The ministers will follow shortly after," the official who requested not to be named discussing confidential investigation issues by the anti-corruption agency told Sunday Nation.
Almost all the people expected in court would be charged with breaking procurement laws or abuse of office.
The Cabinet Secretaries named in the "List of Shame" presented to Parliament by President Uhuru Kenyatta in his State of the Nation speech are Felix Koskei (Agriculture), Davis Chirchir (Energy), Kazungu Kambi (Labour), Charity Ngilu (Lands) and Michael Kamau (Transport).
The anti-corruption agency report also mentioned Governors Evans Kidero (Nairobi), Isaac Ruto (Bomet), Peter Munya (Meru), Ali Hassan Joho (Mombasa), Amason Kingi (Kilifi), Nathif Jama (Garissa) and Cyprian Awiti (Homa Bay).
ARRESTED BY INVESTIGATORS
Murang'a Governor Mwangi wa Iria, though he was not among those in the list, was arrested by investigators and questioned at Integrity Centre in Nairobi over alleged electoral offence.
Dr Kidero is expected at the Integrity Centre at 10 a.m. on Thursday according to the letter summoning him signed by the commission's director of investigations Abdi A. Mohamud.
He is expected to record a statement on corruption allegations involving "irregular payments of legal fees at Mumias Sugar Company and signing MoUs with Diamond Coaches Ltd and Foton Motors on behalf of Nairobi City County."
The Principal Secretaries in the list were Nduva Muli (Transport) Mutea Iringo (Defence), Patrick Omutia (Mining) and James Teko (Water).
Other high-ranking people who have been at the Integrity Centre are Senators Johnston Muthama (Machakos) and James Orengo (Siaya), Kenya's High Commissioner to Tanzania Chirau Ali Mwakwere, Kenya Airports Authority managing director Lucy Mbugua, Secretary to the Cabinet Francis Kimemia, Chief Land Registrar Sarah Mwendwa and Nairobi County Secretary Lilian Ndegwa.
Also in the list is Chief of Staff in the Office of the Deputy President Marianne Kitany, Investment Secretary Esther Koimet, and Kenya's deputy head of mission in South Africa Jane Waikenda.
President Kenyatta asked all the public officials adversely mentioned in the dossier "whether you are a Cabinet Secretary, Principal Secretary, or Chief Executive of a state institution, to immediately step aside pending conclusion of the investigations of the allegations against them."
The five officials whose investigation files are ready include two governors, chairman of a constitution commission, and county assembly speaker from Nyanza and county secretary from eastern.
On Saturday, Mr Matemu said that the commission was preparing a document which they would share with Kenyans tomorrow in which they would lay out their strategy for fighting corruption within the law. He did not elaborate.
Meanwhile, investigations against two other Cabinet Secretaries are also said to be almost complete and they could be in court together with the five or soon after.
Another senior official who said he has been under immense pressure from State House said he couldn't wait to get the files taken off his hands.
According to him, the courts will be the next stage after two weeks of national attention on Integrity Centre.
"We are expecting people to start running to court to block their arrests or to ask for anticipatory bail. But that is now not in our domain. The courts will decide," the official who spoke to Sunday Nation said.
The anti-graft agency is under pressure to complete investigations of the 175 public officials mentioned in the dossier.
In the past two weeks, the commission has been a buzz of activity with top national and county government officials being questioned over corruption allegations.
The commission, the President said, has 60 days to complete the investigations.
"I want to caution that this should not be an open-ended process; justice must be expeditious, as justice delayed is justice denied. Therefore, this should be concluded within the next 60 days," the President said.
Constitutional lawyer Anthony Oluoch said the President's directive was unwarranted as it was unconstitutional because it was interfering with the commission's work.
"Even though the President would want the public to believe that he is serious about the fight against corruption, under the constitution he cannot direct constitutional commissions on how they work," said Mr Oluoch.
-nation.co.ke