Why Adan and Kandie missed Uhuru meeting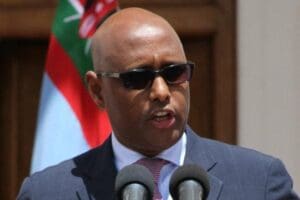 ONE of the Cabinet Secretaries criticised by President Uhuru Kenyatta for skipping the Tuesday event at Strathmore University has defended his absence.
Uhuru told off three CSs who failed to attend the youth entrepreneurship forum at the university. "Soon, we shall change this and we shall see the difference," he said.
An aide to Industrialisation CS Adan Mohammed told the Star on Tuesday night the minister was sick. The Star has also established that EAC CS Phyllis Kandie was in Egypt for the third Tripartite Summit of the Comesa, EAC and SADC.
She left the country earlier this week and was joined by Deputy President WIlliam Ruto and his delegation on Tuesday evening.
National Treasury CS Henry Rotich was unavailable for comment. Education CS Jacob Kaimenyi had also not responded to our enquiries.
However, he was quoted by the Daily Nation saying that he did not wish to comment on the matter. The ceremony at Strathmore University launched the Global Entrepreneurship Summit scheduled for July in Nairobi.
The summit will be attended by US President Barack Obama on his first visit to Kenya as the American leader.
– the-star.co.ke