DRAMA AS POLICE FOIL ROBBERY IN DONHOLM ESTATE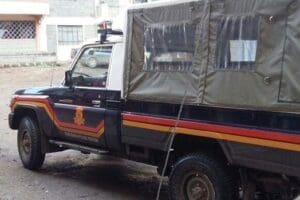 Police and armed gangsters were on Thursday evening involved in an hour long shoot out in one of Nairobi's Donholm estate.
No immediate injuries or deaths were immediately confirmed in the wake of the incident that attracted the interest of the most residents of the area.
A number of traders operating in the area were forced to shut down their businesses for security reasons.
The three gangsters were believed to have been preparing to commit a robbery around Donholm's Phase 8 area but the attempt was foiled by the police officers following a tip off.
FLED ON FOOT
The confrontation began at around Bee Centre near the Donholm-Kayole roundabout, after the gangsters reportedly declined to stop for police inspection.
A chase ensued and after about 500 metres the gangsters abandoned the vehicle and fled on foot while shooting on foot.
One of the gangster is said to have escaped while the rest got into a nearby apartment.
Police later surrounded the apartment in effort to smoke out the gangsters.
More to follow…