Former Diaspora, now Billionaire spent free time shining shoes in US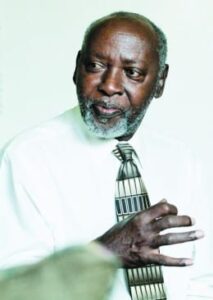 I went to America when I was very young. I remember wearing shoes for the first time on my way to the Embakasi Airport. They were small and very uncomfortable but I couldn't tell anyone.
I studied for a Bachelor of science degree in geophysics, with a major in geothermal energy between 1963 and 1967 at the University of Sioux in South Dakota. My favourite subject was the whole issue of geothermal, which Kenya was just about to start exploring at Ol Karia in the Rift Valley.
It's more than 50 years ago since I left the university, and I can't really remember my favourite lecturer, but I know I liked those who taught the core subjects of geology. I paid for my fee in the US, so I had to hustle on the side to raise money.
I started by shining shoes outside a supermarket where I had a stand like the ones we have in malls today. Each and every free minute I had was spent on that chair polishing shoes. Late in the evening, I would be inside the supermarket helping the owners arrange the shelves or mopping the floors. I would also clean the blackboard in school after lessons besides being the janitor of my hall of residence.
In sports, I was very good in athletics, and I used to run long distance races – I was in the college athletics team. I also played football and long jump.
Occasionally I would go to a dance, just to blend in with the American culture. Although I wasn't with any Kenyan at Sioux, I know there are many of my former class mates who are prominent individuals in America.
Evanson Kamau Waitiki got into the spotlight as the owner of controversial Waitiki farm in Likoni, Mombasa. 
-sde.co.ke