Expect disruptions during Obama visit, State House cautions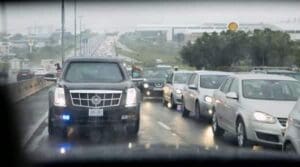 NAIROBI, Kenya, Jul 5 – State House on Sunday warned Nairobi residents to expect disruptions during the visit by US President Barack Obama from July 24 to 26 for the Global Entrepreneurship Summit (GES).
Addressing the media, State House Spokesman Manoah Esipisu explained that a complete programme detailing traffic interruptions in the city will be released in the coming days.
"I therefore urge you to exercise this spirit of hospitality and bear with the few inconveniences that you may experience. However, I would want to make it clear that these will be within the bounds of reason and will be communicated in advance," he stated.
Esipisu announced that normal operations at the Jomo Kenyatta International Airport will continue and that there will be no shutdown as rumoured.
It is estimated that there will be 1,500 investors across the globe with 250 of them being Kenyans attending the GES.
Esipisu explained that there will be also other visitors in their thousands attending different events to be held in three different locations.
The main event of the GES will be held at the UN Compound in Gigiri whereas bilateral meetings will take place at State House Nairobi.
During the visit, there will be a side event of the GES exhibition at the Kenyatta International Convention Centre which according to Esipisu will involve exhibitors from the African region.
The GES and the visit of President Obama attracted local and international journalists with 800 so far having been accredited to cover the summit at the UN Headquarters.
Esipisu explained that 400 of them are foreign journalists.
Journalists planning to cover other side events at the Kenyatta International Conference Centre and State House Nairobi will also begin the process of accreditation on Monday when an elaborate programme of the coverage of the summit will also be released.
In preparation for the arrival of the US President, President Uhuru Kenyatta will hold a meeting with young entrepreneurs on Tuesday at State House Nairobi.
The GES aims at creating a link between investors and enterprises to enhance entrepreneur growth and innovation between Kenya and the US.
It is also aimed at creating new job opportunities for small and medium scale businesses.
The GES will further see Kenya sign bilateral agreements intended to boost entrepreneurship especially in the technology and financial fields.
-capitalfm.co.ke