VIDEO: Panic at KU as Marine One, US military choppers land for Obama drill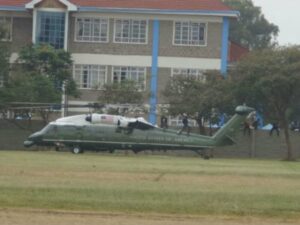 Panic hit Kenyatta University as US President Barack Obama's Marine One helicopter landed at the Amphitheatre for a drill on Tuesday.
The helicopter, and four US marine choppers which escorted it, arrived in preparation for Obama's landing to give a public lecture on Sunday.
Witnesses said the planes had a security drill for 10 minutes before leaving.
Marine One is the official US president helicopter carrier for trips within a country; this means Obama will mostly use it, not his limo 'The Beast'.
The Marine One was escorted to KU by V22 Osprey helicopters.
The V-22 Osprey is designed specifically for Marine Helicopter Squadron One, the air transportation unit charged with shuttling the president and top administration officials around the world.
"Like its combat-ready counterparts, which have already logged more than 10,000 flight hours in Afghanistan, the MV-22 is a tilt rotor aircraft capable of vertical takeoffs and forward flight using a pair of rotating turboprops," according to gizmodo.com.
Marine One at KU Amphitheater during a 10 minute drill on Tuesday. Photo /Albert Nyakundi
The US embassy in a letter said Obama will jet into the country on Friday and leave on Sunday.
He and President Uhuru Kenyatta will hold bilateral talks at State House, Nairobi and address a joint press conference on Saturday afternoon.
The two leaders will co-host the 6th Global Entrepreneurship Summit at UN Gigiri and Obama will give an address at Safaricom Stadium Kasarani on Sunday.
While addressing the press at the White House last Wednesday, Obama said he would prefer visiting Kenya as a private citizen because of the "tough" logistics.
By ALBERT NYAKUNDI AND NANCY AGUTU