Awesome Photos:As Nairobi Chokes in Traffic, Dar es Salaam Launches a Bus Rapid Transit System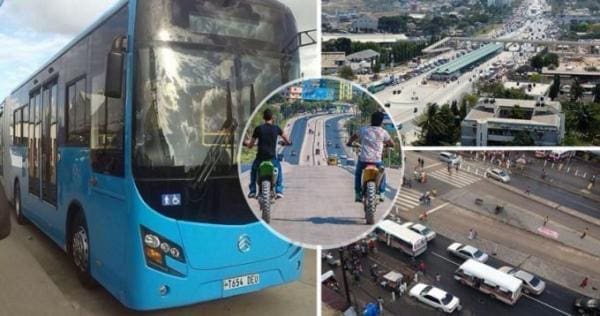 When will Nairobi get an effective bus rapid system?
We were supposed to receive our first batch of buses in June last year, but this is Kenya. Actually, what the governor had promised to deliver last year was not really a BRT, but merely a Citi Hoppa or Embassava rival.
Plans to build a proper system with separate lanes for the buses are very vague and keep on changing. Outer Ring Road will probably be the first road in the city to have a proper BRT. Initial plans were to build the road first, then leave provision for a future BRT.
However, that was changed and it was recently reported that the system might be put up simultaneously as the 13 km stretch from Thika Road to Taj Mall.
As red tape continues to dim Nairobians hope for an effective transport system, our neighbours to the South have launched theirs in Dar es Salaam.
Trial runs began yesterday with two buses, that will have no conductor and use an electronic payment system. When the system is fully operational in October, it will have 76 buses carrying between 80 and 140 passengers each. The Tanzanian government has already constructed 21 bus stations/terminals.
Check out these photos.
Motorcyclists use the bus lane.
Station under construction
One of the bus stations
Another station
A series of Bus stations
-nairobiwire.com