Raila Odinga to conduct parallel vote counting in 2017 polls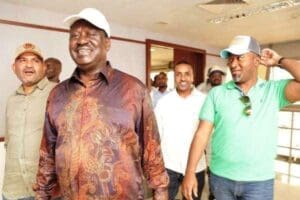 ODM leader Raila Odinga is in talks with a German firm to provide a parallel election system that will collect, transmit, tally and store presidential votes at the 2017 election.
Apart from seeking to lease an electronic results transmission system, Raila is also shopping for a credible international company that will manage his social media and other new media platforms so he can interact with and tap into the creativity of young supporters.
President Uhuru Kenya's biggest vote at the 2013 general election came from young people, who are hooked to all manner of electronic devices to access social media platforms and the internet.
"He is looking for a company that will undertake political event tracking and generate valuable inputs for campaigns," said a senior ODM official aware of Raila's plans.
Although ODM has yet to nominate its presidential candidate, it is almost a given that Raila will be the party's presidential candidate and will seek the support of Wiper's Kalonzo Musyoka and Ford Kenya's Moses Wetang'ula for the Cord ticket too.
The next election could be Raila's last serious attempt at the presidency and, according to people close to him, the ODM leader is leaving nothing to chance as he seeks to seal any possible loopholes for rigging.
Raila unsuccessfully ran for President in 1997, 2007 and in 2013.
"Future elections will no longer be won at public rallies, they will be won in cyberspace and using appropriate technologies. We are therefore doing our best to invest in appropriate technology that will not only safeguard our votes but will also enable us to reach many young people," said a senior ODM party official.
While Raila and his ODM-Cord did not invest much in technology in the last election, Jubilee worked with different ICT experts who monitored election trends and vote counting as the IEBC announced the results across the country. They also pushed a lot of messages through social media as Raila and his team focused their energies on huge public rallies.
The IEBC also for the first time used an electronic results transmission system that however failed after it was reportedly attacked several times.
The electronic election system that Raila is looking for, according to his IT experts, will run parallel to the one the IEBC will deploy. Raila and his team will then deploy thousands of agents to cover every polling station countrywide to record and instantly transmit election results, including photographs of the official results announced by returning officers.
The system will transmit results from all the polling stations to a central command centre based in Nairobi. It will also separately capture results from the IEBC's National Tally Centre, the County Tally Centre and the Constituency Tally Centres.
Among others, it is understood that Raila has on various occasions this year met agents of Germany's SAP, a software firm that helped India's Prime Minister Narendra Modi win the world's biggest election by a landslide a year ago.
Raila and Modi are friends.
SAP India helped Modi's BJP through its Social Media Analytics Division.
– the-star.co.ke