Raila reveals what he told Barack Obama, denies defaming Kenya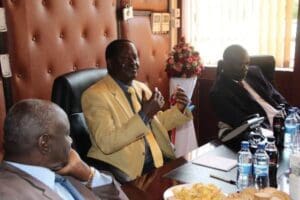 President Uhuru Kenyatta should stop "lying" to the country about the opposition's meeting with the US president, Cord leader Raila Odinga has said.
Saying Uhuru was not at the meeting with Barack Obama though it was open to all, Raila denied claims that the opposition defamed and let the country down.
He said they repeated what they have been saying before "as the president has never been keen on listening to them even after calling for dialogue" over key issues.
He spoke during the commissioning of the newly refurbished Siaya County Assembly premises in Siaya Town on Friday.
Raila said the leaders presented a summary of the memorandum during the meeting with Obama, which followed one with citizens, as they had already addressed most issues.
"When I met the US president I told him 'our memorandum contains things you have already mentioned like corruption, ethnicity and bias, and I will not repeat them, but I have few words to add concerning devolution," he said.
He said he explained to Obama how the government has "oppressed" devolution by not releasing funds to counties.
The opposition leader said they also talked about election rigging, adding that polls have "not been fair since independence".
He said he urged the US government to help curb election malpractices by assisting with ICT infrastructure.
"Next time Kenyans to go to election their votes must be counted in a transparent manner, and without any mischief, with the help of proper ICT infrastructure," he said.
The leaders also addressed the two-thirds gender rule for the fair representation of women in parliament, he said.
Uhuru censured the opposition on Wednesday, for "wasting the lucky opportunity" to meet Obama by focusing on "selfish" interests.
He said the leaders put their own interests ahead of the country's during the visit last month, instead of contributing to Kenya's progress.
Their role is to democratically air their views on issues they have a difference of opinion on, while supporting what is right, he said.
– the-star.co.ke