Ugenya North By-Election Proves Uhuru's Gaining Popularity in Luo Nyanza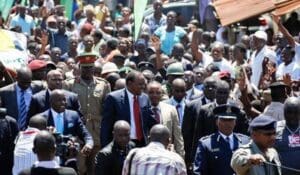 President Uhuru Kenyatta could slowly be winning voter's confidence from Opposition Leader, Raila Odinga's backyard.
There are a number of indicators that show Luo Nyanza is not bitter with the President after all.
Ugenya North ward residents went to the polls to elect their new member of County Assembly on Monday in what was a race of two horses.
ODM's Shaban Omar won the by election garnering 3,370 votes against 1,670 scooped by JAP candidate Steve Mwanga and KANU'S Lazarus Otieno came third with 109 votes.
What is interesting here is that Steve Mwanga could have chosen another Party within the CORD umbrella but not JAP in a region that overwhelmingly voted for the former Premier Raila Odinga in the 2013 elections.
Considering the number of votes Mwanga gathered, one may not be wrong when they conclude that locals did not bother about the Party but him, something that could not happen a couple of years ago.
Last week, President Uhuru Kenyatta visited Kisumu and was treated to a heroic reception that surprised many Kenyans. Kenyatta was in the Lakeside City for the third time in his first term making history as the only sitting head of state to have ever visited Kisumu in such a short period.
Perhaps people of Luo Nyanza appreciate the fact that the President tries to refrains from exchanging words with CORD Leader Raila Odinga as his Deputy does.
Maybe it could also be some development projects carried out by the government such as the NYS programme that has created employment for the youth across the country including Nyanza.
If this trend continues, President Uhuru might win the next elections with a big Margin.
-kenyans.co.ke