Wamalwa's Family To Perform Blood Ritual In London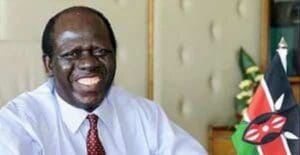 A procession led by Water and Irrigation Cabinet Secretary Eugene Wamalwa, is in London to perform a Bukusu cultural practice on the death site of the Late VP Kijana Wamalwa.
This is in preparation for the anniversary of the late Wamalwa, 12 years since his demise.
The ritual called khulotia, involves slaughtering a ram at the site of death, and pouring of blood in order to appease the death.
The family then takes a stone at the site of sacrifice and places it by the burial site.
By doing so, the family would have completed its obligation in bringing the 'soul' of Wamalwa back home.
According to message by the CS, among those in London for the practice includes; Wamalwa's widow Yvonne Wamalwa, Son Jabali, daughter Chichi and cousin UN boss Mukhisa Kituyi.
The family spokesman, Mr. Matumbai said its important to show respect to the dead to ensure the spirit of the late can be appeased.
The anniversary will be observed on 23rd August (date of his death) in the former Vice Presidents, Milimani home Kitale.