Uhuru to name, Shame corrupt public servants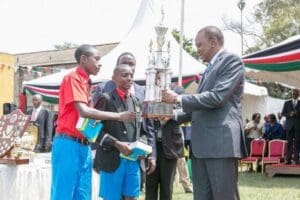 PRESIDENT Uhuru Kenyatta has pledged to name and shame corruption suspects in a renewed anti-graft strategy that may spark fresh protest.
In a joint commitment to promote good governance and anti-corruption efforts in Kenya, President Kenyatta promised US President Barack Obama that a whistleblower portal will be up and running by December this year.
         Kenyatta pledged to make public all the graft claims – complete with the government's response to the complaints received.
         "The Government commits to finalising [its] complaints and corruption reporting web portal for citizen use by December 2015, and to publishing the data regarding the complaints it receives on this and other corruption-reporting websites, broken down by sector and geographic area, along with its response," the agreement states.
         The name and shame strategy was first employed by President Kenyatta on March 26, 2015, when he annexed a confidential EACC anti-graft dossier implicating 175 officials to his State of the Nation Address before both Houses in Parliament.
         The List of Shame however triggered an outcry that it was "laced with political vendetta" and that some names were dragged in the mud based on hearsay.
          In the new document published on the White House website, the government also committed to overhaul its whistleblower legislation and tighten the security component of the IFMIS payments system.
          "The Government commits to further enhance its efforts under the Integrated Financial Management Information System programme towards full integration of all government financial systems, and to augment the audit and security components to guarantee the system's integrity," the agreement said.
            Devolution Cabinet Secretary Anne Waiguru has been under pressure over a Sh826 million attempted fraudulent transaction at the National Youth Service.
            This was after fraudsters logged into the IFMIS system by night and tried to make huge falsified payments before they were discovered.
            Kenyatta pledged in the agreement that his administration would finalise the transition to electronic procurement by June 2016.
             Two months ago, a tough-talking President gave Cabinet Secretaries an ultimatum – adopt the e-procurement system in two weeks or face the axe.
             "When we say we must be on e-procurement we must be, I am following this up myself and if by next week you will not have integrated fully, there are other Kenyans who can have your position," Kenyatta said at JKIA.
              Among other pledges that Kenya made include completing the digitisation of lands, births, and deaths records by July 2016.
             Kenyatta also promised to step up the capacity building of independent oversight bodies as well as increase their financial muscle.
             Among the targetted institutions are the EACC, the Public Procurement Oversight Authority and the Independent Policing Oversight Authority.
             Last week, Auditor General Edward Ouko gave President Kenyatta a fresh headache by exposing Sh66.7 billion in suspicious expenditure by 17 ministries and departments.
            The story, widely publicised by the international media, emerged just two days after Obama's historic trip to Kenya.
             Treasury Cabinet Secretary Henry Rotich however rubbished the report, saying it was rushed and fell short of international auditing standards.
             "We should also be cautious that inaccurate reporting by the Auditor General affects our relationship with both domestic and international investors on their perception regarding the investment climate in our country," Rotich stated.
– the-star.co.ke